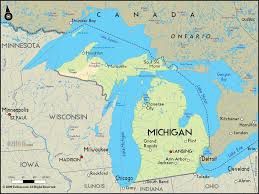 Michigan and Vine
Michigan is a state of the US Midwest, surrounded in part by the Great Lakes, which form a natural border with the Canadian province of Ontario. It is surrounded to the north by Lake Superior, on the west by Lake Michigan and Wisconsin, on the east by Lake Huron and Lake Erie and south by Indiana and Ohio, with Lansing for capital and an area of ​​250,941 km2.
Its name comes from American Natives who occupied the region to the origin meaning big water Ojibwe word Mishigamaw.
Are climate is humid continental climate without dry season influenced by the Great Lakes. With generally cold winters to hot, humid summers and the minimum temperatures fall below -10 ° C and can go up to 32 ° C.
State wines Michigan have won many gold medals in international wine competitions.
Wine Country, Michigan produces wine from many fruits which gives a production of dry and sweet wines. Most dry wines are grape varietals.
Wine Region of the United States, Michigan has over 108 wineries for a produce of 72 grapes varieties, with very diverse vineyard landscapes.
Offering a large number of wineries produced nearly 600 references.
Among which were found varietals: Aurore-Wine, Auxerrois, Baco-Boir, Barbera, Blanc de Blanc, Blanc de Noir, Blush, Cabernet Franc, Cabernet Sauvignon, Carignan, Catawba, Cayuga-Red, Chambourcin, Chancellor White, Chardonel, Edelzwicker, Chardonnay, Chaunac-Red, Chenin Blanc, Chianti-Red, Concord-Red, DeChaunac, Delaware Wine, Gamay, Gewürztraminer, La Crescent, Lambrusco, Lemberger, Malbec, Marshal Foch, Marsanne, Merlot, Morado, Moscato, Muscat, Nebbiolo, Niagara-White, Petit Verdot, Petite Syrah, Pinot Blanc, Pinot Grigio, Pinot Gris, Pinot Meunier, Pinot Noir, Pinotage, Riesling, Roussanne, St. Pepin, Sangiovese, Sauvignon Blanc, Seyval Blanc, Syrah, Traminette, Vidal Blanc, Vignoles, Viognier, Zinfandel.
As well as wines from traditional method, Wine white and red blends, Meritage, and fortified wines such as Porto, and also fruit wines such as: Apple-Wine, Blackberry-Wine, Black-Currant- Wine, Wine-Blueberry, Cranberry-Wine, Cider, Wine-Peach, Pear-Wine, Plum Wine, Raspberry Wine-and-Sherry Wine.
The road of Michigan wines take you on the banks of the Little Bay on Lake Michigan and inland lakes in Northwest Michigan Wine Country, with the discovery of new cellars allowing you to taste outstanding wines from around the world, as well as new exceptional varietals wines from the new world, with not forgetting the fruits wines varieties. Do not hesitate to come and enjoy for a weekend of relaxing day to discover this beautiful region or vineyards overhangs lakes without the large crowd, and discover why this beautiful area has attracted golfers from more than 100 years.
You can take time for a romantic getaway and try a cooking class in one of the many inns of this wine route and discover the vintages of this region from the shores of Lake Michigan.
With Leelanau Peninsula, and are microclimates costs you will discover the local cuisine that goes well with wines from this small region and nestles close to 25 wineries and a selection of grapes well suited are climate as: Riesling, Pinot Grigio, Chardonnay, Pinot Noir and Cabernet Franc.
This wine route is divided into three paths allowing you to make a beautiful hike with a stop in each tasting room along trails, providing a unique experience with unparalleled views loaded with charm and chat with laids-backs that the produce.
This wine trail is the largest and oldest in Michigan and drew national attention as a world class destination.
Whether your visit lasts a day or a season, you are sure to find the comfort and pleasure in everything the road of Michigan wine has to offer.