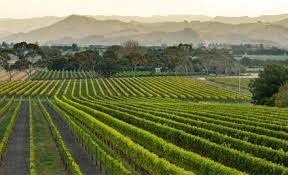 Vineyards in the Gisborne region
Gisborne this region 1.200ha poured into mass production, as opposed to Hawke's Bay. Generally ordinary wines, and it succeeds better in white ,Chardonnay and Riesling, Müller Thurgau than red.
Climate present in Gisborne is of oceanic origin temperate and hot. Significant precipitation occurs all year in Gisborne, including during the driest months. The average temperatures in Gisborne is 14.3 ° C., With average annual rainfall of 1071
Gisborne Wine Tours, developed by winemakers to show vineyards & Wineries, and varieties of wines ,that make this region a unique wine region.
The vineyards & wineries offer guided tours. This includes an afternoon of sightseeing, a wine experience and unique food, shared plates and a guided tour of the winery and is functioning.
You can be picked up at your accommodation or make an appointment at the Center for Wine Gisborne. The tours are for 10 to 40 people. Cost per person is $ 60; minimum 10 people.
P: 06 862 5335; M: 027 656 8222; E: info @ wrightswines.
Among the cultivated varieties have found them: Gewürztraminer, Chardonnay, Pinot Gris, Riesling, Chenin Blanc, Viognier, Semillon, Muscat, Müller-Thurgau. For Wines White and red wines are cultivated varieties: Pinot Noir, Tempranillo, Cabernet Sauvignon, Zinfandel, Sangiovese, Syrah, Malbec, Merlot, Petit Verdot, Cabernet Franc.
Traditional method wines are also available in Rosé and white
In the region of Gisborne, the -variées climatic conditions are favorable to the best grape varieties and diversity of terroirs, allow all hopes.
Sauvignons have earned a good reputation, and Chardonnays are the same way. We also find blended wines of good quality.
Gisborne
Gisborne Region is a region of New Zealand It has 46,500 inhabitants in an area of 8351 square kilometers. The population density of the region of Gisborne is 5.6 inhabitants per square kilometer.
The Gisborne region (in Māori: Turanga-nui-a-Kiwa) is located northeast of the North Island, New Zealand. It is also sometimes called East Coast or Eastland.
Its name comes from the Secretary General of the colonization of New Zealand from 1869 to 1872 William Gisborne.
This region has very few inhabitants, of whom three-quarters live in the city of Gisborne. The other two most important cities are Tolaga Bay and Ruatoria
The region is hilly and forested. The Te Urewera National Park is located east of the region. Mount Hikurangi culminates at 1754 meters. It is the fifth highest mountain in the North Island and the highest non-volcanic origin.
The region is the terminus of the line of railway from Palmerston North and Gisborne city.
The proportion of Māori in this region is important, in some cases over 50% in some areas. Tribes (kiwi) are the most important Ngāti Porou, Rongowhakaata, Ngai Te Aitanga Tamanuhiri and has Mahaki.
East Coast is a region of outstanding natural beauty. As soon as the sun rises over the pristine coastline, and when it descends across the plains of the bay, why it deserves to be seen and appreciated by tourists in the wine region of Gisborne.