Viticulture in Minnesota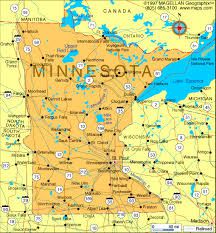 Viticulture in Minnesota
Minnesota is a state in the US Midwest, surrounded on the west by North Dakota and South Dakota to the north by the Canadian provinces of Manitoba and Ontario, on the east by Lake Superior and Wisconsin and south by Iowa.
Its name comes from "mnisota" Minnesota River named by the Dakota Sioux tribe.
Established in 1849, the city of St. Paul became its capital; It is also the US state further north, with the exception of Alaska, with its extreme northwest who is the only region that lies north of the 49th parallel north.
Its winters are relatively cold and snowfalls are frequent with hot and humid summers with reference to the large number of lakes in the state (over twelve thousand) causing thunderstorms.
Despite Are continental cold and wet climate, It is also boasts a number of vineyards with the numbers 33, for nearly three hundred thirty references.
Among which were found varietals: Blush, Brianna, Cabernet Franc, Cabernet Sauvignon, Chambourcin, Chardonnay, Colombard, Concord, Edelweiss, Frontenac Gris, Frontenac-Red, Gewürztraminer, La Crescent, LaCrosse, Leon Millot, Malbec, Marshal Foch, Marquette-Red, Merlot, Muscat, Petite Syrah, Pinot Gris, Pinot Noir, Ratafia, Riesling, Sabrevois-Red, St. Croix, St. Pepin, Seyval Blanc, Vidal Blanc, Vignoles, Zinfandel.
As well as white and Red Blends Wines, Meritage wines and berry wines such as: Apple Wine, Blackberry-Wine, Black-Currant-Wine, Blueberry-Wine, Eldelberry-Wine, Peach Wine, Strawberry-Wine and a fortified wine.
Wine Country, the Minnesota produced wine from many fruits which gives a production of dry and sweet wines. Most dry wines are grape varietals while sweet wines are fruit wines.
It is crossed by two major rivers Mississippi that rises north of the state in Itasca Lake and its tributary, the Minnesota, which rises to the southwest of the state and flows into the Mississippi near St.Paul.
In Minnesota each wine route is always a discovery, the wine routes of Minnesota does not exceptions.
The Minnesota wine roads are wonderful places to visit.
Nestled along the St. Croix National Scenic River way on the path along the river you will discover scenic landscapes with fertile farmland accompanied by dense forests creating some special conditions for the cultivation of vines in this region or vineyards and cellars that his family businesses open their doors accompanied by some wines tastings.
Wine Region to rapid growth, you will discover from producer to another on this path restaurants, and shops to delight travelers with great wines it has to offer or visit three of the oldest vineyards of Minnesota: Saint Croix vineyards, the northern vineyards and Winehaven that is the time for a weekend or a day to enjoy the scenery of the valley.
Or further Heartland Wine Trail located on the grassland in the far west, in the area of ​​glacial lakes and beautiful valleys surrounding the river this trail connects some diverse group of wineries with tasting some of the Minnesota best wines providing educational and deeper experience on the Minnesota wine industry and the pleasure to discovering some big differences of this wine regions that trail is really representing the true depth of this soil.