Wisconsin and Vine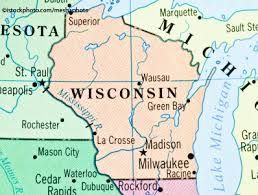 Wisconsin and Vine
Wisconsin is a US Midwest state surrounded to the north by the Lake Superior and Michigan, to the east by the Lake Michigan, to the south by Illinois and to the west by Iowa and Minnesota.
Are continental climate is wet and rough with poor soils, with forest composed of oak, fir, pine, birch and maple covering nearly half of its territory .
Occupying the east of the state by a wide plateau over to 603 meters with Mount Arvon you will discover the plain of Lake Michigan created by the ice age.
It is traversed by the Mississippi river and its tributaries, Wisconsin river and the St. Croix river.
Rural state, and despite a cold and harsh continental climate, It is also boasts a number of vineyards nearly over fifty numbers, for almost three hundred wines references.
Among which were found the varieties: Baco-Noir, Barolo-Red, Blush, Brianna, Cabernet Sauvignon, Catawba, Chardonnay, Chenin Blanc, Concord-Red, Edelweiss, Frontenac Gris, Frontenac-Red, Gewürztraminer, La Crescent, LaCrosse, Leon Millot, Malbec, Marshal Foch, Marquette-Red, Merlot, White Merlot, Montepulciano, Müller-Thurgau, Muscat, White Niagara, Pinot Grigio, Pinot Gris, Pinot Noir, Riesling, St. Croix, St. Pepin, Sangiovese , Sauvignon Blanc, Seyval Blanc, Syrah, Vidal Blanc, Viognier, Zinfandel.
As well as white and Red assembly wines, Meritage wines and berry wines such as: Apple Wine, Black-Berry-Wine, Blueberry-Wine, Cranberry Wine, Elderberry-Wine, Honey-Wine, Mango Wine, Peach-wine, Pear-wine, Plum wine, Raspberry wine, Sherry-wine, Rhubarb-wine, Strawberry-wine, and a fortified wine.
Wine Country, Wisconsin produces wine from many fruits which gives a production of dry and sweet wines. Most dry wines are from grape varietals while sweet wines are from fruit wines.
Rural State is the first producer of dairy, and with pig and mink farming are also practiced. For Cereals, we find to: potatoes, soybeans, tobacco, forage, fruits and vegetables are the main crops and lumbering.
With more than 50 wineries nestled along the Wisconsin, the road of Wisconsin wines allows to all visitors and tourists to come and taste its wines, or some many wines trails across the state will lead you to caves and vineyards, allowing you enjoying fine craft production in red and white wines representative the Wisconsin authenticity.
As the Great River Road Wine Trail on the banks of the Mississippi river a trail of 11 established wineries on both sides of the river are waiting to be discover , you can spend a weekend or why not a whole week to visit the many villages and vineyards located along Great River.
Take your time and enjoy the scenery, and each step will allow you to taste the wines of wineries facilities with a selection of over 100 wines.
Or enjoy the view of Lake Superior from a green valley with hills covered in sunny vineyards, breathing fresh air into the orchards with windswept.
The discovery of the vineyards is the perfect way to get experience truly the amazing variety of Wisconsin wines, to meet winemakers, to see vineyards and orchards and visiting cellars.
Legend in the brewing industry in Wisconsin, you can find the biggest names in American beer brands.
The traditions of the Old World is here proudly worn in the colorful caves of Wisconsin. Or you can enjoy a tour of the well kept orchards and a beer tasting.
Tourism activity It is not limited to the winery, Wisconsin also has many other cultural assets, natural and historic: as the Milwaukee Art Center, a museum of natural sciences, the Lizard Mound State Park (Native Americans tumuli), the old Wade House (former diligence) of Greenbush, or the old World Wisconsin, outdoor museum with farms built by German immigrants.