Wyoming and vines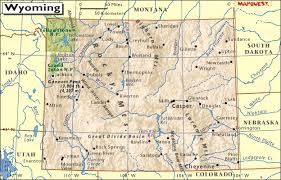 Wyoming and vines
Wyoming
Once inhabited by several groups of Native Americans whose: Crows, Arapaho, Sioux and Shoshone.
Wyoming is a western state of the United States, bordered on the west by Idaho, on the north by Montana, on the east by Nebraska and South Dakota and to the south by Colorado and 'Utah. One third of the state is located in the Great Plains, but Wyoming is mountainous throughout the rest of its territory. It is one of only two fully rectangular States (with Colorado). It is also the least populated state in the United States with its 563,626 inhabitants. With for capital and largest city Cheyenne.
The wine industry in Wyoming has only three vineyards that today almost 8 references mainly tables wines and regardless fruit wines such as Blackberry wines, and Cherry wines, giving a production of dry and sweet wines. Most dry wines are grape varietals while sweet wines are fruit wines.
Among the grape varieties are found: Frontenac, Frontenac Gris, Merlot Chardonnay, 'Marechal Foch, Marquette.
Wyoming Located to the west of the United States. Its territory includes both the Great Plains and the Rocky Mountains. Its mountain continental climate is with some mild temperatures, sunny along with rigorous winter months. Temperatures are ranging from -8 ° C in winter and 28 ° C in July.
Snowmelt from the heights of the mountain comes to enlarge a number of rivers and streams as: the Snake River begins his long winding trip to Idaho and Columbia River; à Yellowstone moving from north to the east to come and throw in Missouri; and the Green River flows south to join Colorado. This richness compensates rare rainfall and channeling for irrigation, and in some cases, for hydroelectric power.
Despite the small number of vineyards research done on grapes from10 years sees promise for growth potential of grapes in Wyoming; Accompanied by a hot and dry climate, viticulture have a good reason to believe in the future, between 25-30 farms are under development spread across the state along with a variety of grapes grown in the Wyoming State
Many buy grapes or get some from California juice to make wine in Wyoming.
And we find some cepages like : LaCrosse, Saint Croix, Saint Pepin, Edelweiss, Frontenac, Marechal Foch, LeonLillot, DeChaunac, Chancellor, Vignoles, Cyntthiana, Steuben, Concord, Catawba, Niagara, Seyval Blanc, Traminette, Melody, Vidal Blanc, Chambourcin, Chardonel, Cayuga White, Cabernet Franc, Riesling, Chardonnay, Cabernet Sauvignon, Merlot , Pinot Noir, Gewurztraminer.
Research is currently focused on the identification of grape varieties that are well adapted to tolerate cold, drought and salinity in Wyoming.
The interest in Wyoming for grapes usually comes from producers, owners and all those involved in wine production.
With an increase in grape production, many people will begin to interested wine making to begin to establish vineyards, with the huge potential of that State.
The Wyoming climate does not promote the growth of disease. Producers did not use fungicides; Reason is the climate so suitable. There's so hot and dry that Wyoming has no fungal diseases, this represents a huge advantage for Wyoming.
Some producers are looking for new varieties, other than that from traditional livestock use such as Chardonnay, and Merlot.