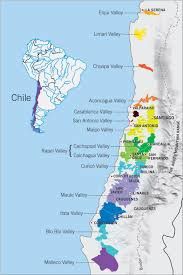 Viticulture in the Valleys of Bio-Bio and Itata
Chilean vineyards are not geographically concentrated. Several hundred kilometers separate the wine region of northern Chile, where we find the national drink Pisco, to the wine valleys of the south Chile
Accessible by motorway Santiago-Puerto Montt, it joined the wine growing areas of the basins Itata and Bío-Bío, cooler for grape growing regions.
Area is surrounded to the north by the region of Maule, on the east by Argentina to the south by the Araucanía region and to the west by the Pacific Ocean.
These two valleys of the Itata and Bío-Bío have mainly produces large quantities of table wine from the grape país. Cooler and wetter than other wine regions, will certainly become a favorite region for Pinot Noir, which has not been very successful, but we expect better results by choosing more suitable soils, Pinot Noir is grape variety of Champagne and Burgundy regions which prefers cool like: Riesling and Gewurztraminer.
These valleys play a subordinate role. Although Chilean wines are not well known today, but they will play in the future an increasingly important role, especially, with that climate conditions ho are more favorable
The northern sector of the southern regions, "Itata Bio-Bio, are not new to the wine industry . Some of the oldest vineyards were planted in colonial times near Concepción.
Today the area has a mixture of old and new vines, offering many opportunities for exploration and growth.
They are located 400 kilometers (250 miles) south of Santiago. The climate is Mediterranean. With a rainfall of 1,100 mm of rain per year, soils are composed of alluvial clay and sand.
Today little found: Cabernet Sauvignon, Merlot, Chardonnay, Semillon and Carignan. Moscatel de Alexandria
Chilean wine has achieved a quantum leap, and have little to be excited to see the progress of these wines in the future.
The southern region of Chile
The area is accessible by highway Santiago-Puerto Montt or plane at the airport in Concepción. The region, with over 1.8 million inhabitants, is the second most populated after the Santiago area.
Its regional capital Concepción is,. Its population in 2002 was 912,061 inhabitants, urban majority.
The other two cities are important Chillán and Los Ángeles.
Coal is mined in large quantities, mainly in the mining center of Lota. Production in the region is practically enough to the needs of the country. Agriculture is also highly developed and dedicated in part to export.
As landmarks, we can cite the Salto del Laja, the Baths of Chillan, volcanoes Antuco (2985 m) and Chillán (3212 m).