The vineyard of Montana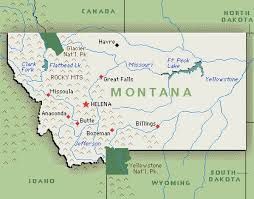 The vineyard of Montana
Montana
Originally populated by several tribes of Native Americans: Sioux, Nez Perce, Kootenays, Cheyenne occupied these territories before the Europeans arrival.
Is a state of the northern United States with for capital Helena and it is surrounded on the west by Idaho, on the east by South Dakota and North Dakota, to the south by Wyoming and to the north by Canada's border with the provinces of British Columbia, Alberta and Saskatchewan.
Its name comes from the Montaña (in Spanish, meaning "mountain.")
It is divided into two distinct regions. To the west, the broad valleys are dominated by the towering peaks of the Rocky Mountains. And to the east the plains are dominate.
Its climate is continental, with to the west landscapes that range from broad valleys surmounted by the peaks of the Rocky Mountains, and with some vast fertile plains to the east. Its river system is important with the Missouri River running through it along with several tributaries of the Missouri River whose rivers: Yellowstone river, the Milk River, the Musselshell River through the state and are forming numerous canyons and waterfalls.
When we have believed in Montana, with its cold winters, the presence of vineyards does not come to mind. However, there are varieties suited to the northern climate of Montana, with innovative winemakers constantly developing new hybrids adapted well to the climate accompanied by new techniques for the vine cultivation.
Or Montana's oldest winery to open these doors there are more than 30 years in 1984 on the shores of Flathead Lake today the vineyard produces about 6,500 cases of wine per year, with access to the cave by boat the tasting room is open from May to October.
Currently the Montana wine industry has only 9 vineyards today for nearly 50 references mainly for table wines and fruit wines regardless like Blackberry wines and Cherry wines, giving a production of dry wines and soft wines. Most dry wines are grape varietals while sweet wines are fruit wines.
Among the grape varieties are found: Cabernet Franc, Cabernet Sauvignon, Chardonnay, Gewürztraminer, Frontenac, La Crescent, LaCrosse, Leon Millot, Malbec, Marshal Foch, Marquette, Merlot, Mourvèdre-Rosé, Muscat, Muscat Canelli, Petite Syrah, Pinot Gris, Pinot Noir, Riesling, St. Croix, St. Pepin, Sauvignon Blanc, Syrah.
Every year a live music festival is held together with a tasting wine service and locally grown fruit producers or shops are open all year.
All of these wineries are offering tasting rooms and gift shop, as well as free guided tours every day Open all year, Tuesday to Saturday,
The farmers market plays an important role in promoting Montana agricultural products. Costumers are enjoying the freshness and taste of locally grown food offering a direct sales from their products to consumers in a local economy.
Rural Territory are agriculture is mainly practiced in the wide valleys of the Rocky Mountains, it concern livestock, wheat grain, forage and sugar beets, without forgotten Forest exploitation.
The economy is diverse there. Mineral resources are considerable with reserves of copper, oil, natural gas and coal, gold, silver, phosphates, zinc and manganese.
They industries are based primarily on the treatment and processing of agricultural and mineral raw materials.
Do not hesitate to come visit one of these wineries for an educational experience and a truly representative wines taste of mountains.