Utah and Vine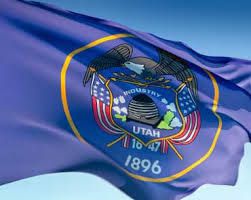 Utah and Vine
Utah and Vine
Utah is a western state of United States with Salt Lake City for capital.
Utah State is one of the Four Corners states. It is bordered to the North by Idaho, to the North East by Wyoming, to the east by Colorado, to the southeast by New Mexico, to the south by Arizona and on the west by Nevada.
Its area is 219 887 km².
It is boundaries located on lines of latitude and longitude.
Utah is characterized by geological diversity, with snowy mountains, some valleys with high rivers and barren deserts.
The Utah wine industry has only 6 vineyards today to nearly 27 references mainly for table wines, which gives a production of dry and sweet wines. Most dry wines are grape varietals.
Among the grape varieties are found: Cabernet Sauvignon, Chenin Blanc, Chardonnay, Gewürztraminer, Marsanne, Merlot, Muscat, Pinot Blanc, Riesling, Roussanne, Sauvignon Blanc, Semillon, Sherry-Wine, Syrah, Viognier.
Created by local craftsmen supporting products, of Utah wineries, breweries and distilleries.
Which is one passion for all these enthusiasts' winemakers, you will during visits to taste the products of your choice of wine, beer or spirits.
You can find hotels and accommodation in the area. Allowing you, visit some historical sites around the Great Salt Lake City and Park City with the unique history of alcohol in the "Beehive State."
Utah wine refers to wine made from grapes grown in the state. The first wine grapes were planted in Utah is from1860s, shortly after the Mormon installation in Utah.
Quickly abandoned until late 1980.Today Most of Utah's vineyards are located in mountain valleys, located at an altitude of (1829 m) above the level sea.
The climate is cold and dry, often requiring irrigation for crops, despite all the scenery is magnificent there.
Do not hesitate to come for a weekend or relaxes days and learn while traveling the road of vineyards, breweries, distilleries and Utah.
Relief is mainly rocky with three distinct regions: the Rocky Mountains, the Great Basin and the Colorado Plateau. Known for its natural diversity is home to a wide variety and formations of arid deserts accompanied by sand dunes and pine forests in mountain valleys.
With the central Wasatch chain which rises to 3650 m above the sea level. Some parts of the mountains receive more than 12 meters of snow per year, which makes it a very famous place to practice skiing with its powdery and light.
Northeast of the Uinta Mountains include Kings Peak, located at 4123 m the highest peak of the state with to the West of Mountains Wasatch, the Great Salt Lake, which is a part of the Great Basin on mostly arid west.
Southern Utah is eroded by the Colorado River and its tributaries, which contrasts with the Northeast is quite mountainous with forests.