Idaho and Vine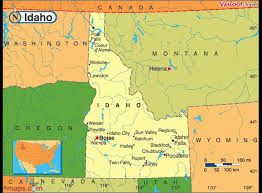 Idaho and Vine
Idaho
Idaho is a state in northwestern United States, surrounded on the west by the State of Washington and Oregon, to the south by Nevada and Utah and to the east by Montana and Wyoming, to the North by British Columbia province of Canadian State and inhabited for about 14 500 years.
The discovery in 1959 of arrows in Wilson Butte Cave near Twin Falls, gave evidence of one of the oldest dated in North America. The most important tribes of Native Americans were the Nez Perce to the north and Shoshoneau to the south.
Idaho is an important agricultural state: it produces about a third of all potatoes grown in the United States. Other notable agricultural products are beans, lentils, barley, wheat, bulls and sugar beet.
Wine Region, Idaho produces wine from many fruits which gives a production of dry and sweet wines. Most dry wines are grape varietals.
It benefits also some many vineyards which are 42 numbers, for nearly 240 references.
Among which were found the grapes: Barbera-Red, Blush, Cabernet Franc, Cabernet Sauvignon, Chardonnay, Chenin Blanc, Gewürztraminer, Grenache, Lemberger, Malbec, Merlot, Muscat, Mourvèdre, Muscat Canelli, Petit Verdot, Petite Syrah, Pinot Grigio, Pinot Gris, Pinot Noir, Riesling, Roussanne, Sangiovese, Sauvignon Blanc, Semillon, Syrah, Tempranillo, Touriga-Red, Viognier, Zinfandel.
As well we find wines from traditional method and white and red wines assemblies, Meritage, and fortified wines such as Porto.
Viticulture in Idaho is divided into 3 regions, the northern region, the South West wine region and South-East wine region. In each region some guided tours accompanied by wine tastings are organized to pleasantly enjoy your stay in the area.
Or vineyard owners, producers, wineries assist you in discovering their vineyards with each year a variety of events organized will allow you to enjoy a complete experience of Idaho wines.
Idaho vineyards are generally located at an altitude up to 3,000 feet, with soils consisting primarily of volcanic ash and accompany with long hours under a hot sun light during the growing season of vine typical of northern latitudes and arid climates with cool summer evenings - characteristic of desert environments.
This combination of factors contributes to the production of quality wine grapes with concentrated fruit flavors and naturally high in acidity. In this state most of the wineries are concentrated along the south-western part of the Snake River Valley between Mountain Home and Twin Falls, with near the eastern Wyoming border, three other wineries which ones today became the first name of Idaho wines.
Snake River creates a favorable environment for grapes, creating distinctive wines.
The northern part of Idaho State is second wine region with home of eight wine cellars, just west of the Washington border in Spokane Region.
Away from the Pacific coast, are climate remains under the maritime influence is done there still feel, So despite the high altitude of the State, the winters are less rigorous than in the central plains in south State is unlike northern winter is the driest season with a semi-arid plains.
Are main river is Snake River flowing in Idaho.
Located west of the Continental Divide, all rivers flow in direction of, Pacific Ocean or tributaries and sub-tributaries of the Columbia River empties into the Pacific Ocean with in the extreme south rivers are flowing to the Great Salt Lake.
Visitors will also benefited advantage of its landscapes beauty, the Rocky Mountains known for these high snowy peaks, these waterfalls, vast lakes and deep canyons or wildlife is still largely preserved.