Viticulture in Australia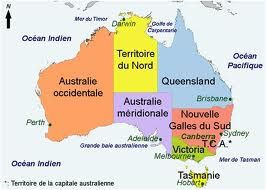 Viticulture in Australia
Australia, is a country in the southern hemisphere whose area covers the greater part of Oceania. In addition to the island of the same name, also includes Australia,Tasmania and other islands of the Pacific Oceans and Indian.
Is it that in 1606 J Van Lodesycksz Roodengin first European to set foot on Australian soil.
Australia this New World countries, have a considerable influence on the culture of wine.
In this country as they are European immigrants who started the cultivation of the vine.
Australian winemakers have revived the techniques of the vine, and are able to produce quality wines at discounted prices.
The European wine industry is still trying to protected these new world wines that arrives on European markets.
Also found a large number of Australian winemakers settled in the south of France to produce Australian French wines.
It was a Scotsman In 1831, non Busdy James, who in the 18th century planted the first vine grape, in the Hunter Valley, shortly vines spread along the coast, in the Barossa Valley in New South Wales South and around the city of Adelaide
The first wines were like in the Côtes du Rhône, after the first world war, viticulture known a tremendous boost with the return of soldiers, so have found fortified wines.
After the year 70, dry wines gained popularity, vines were planted in cooler place like Eden Valley or Coonawarra.
The exceptional growth of the Australian wine continues today.
Australian wine is now the fourth export with a growth of 80% in recent years. Australians seem to have assimilated better than anyone the rules of marketing.
Export wine, whose production is 80% in the hands of four large wineries, come mainly mixtures of sources in various regions of production.
There are seven major regions in Australia for the vine, Western Australia, Northern Territory, South Australia, Queensland, New South Wales, South Victoria, and the island of Tasmania
Vineyards in Australia are huge, and has the latest technology, have found almost everywhere in Australia.
Cultivated varieties are for whites: the, Gewürztraminer, Riesling, Chenin Blanc, Muscat Blanc, Muscadelle, Marsanne, Chardonnay, Sauvignon Blanc, Semillon, Verdelho, Ugni Blanc and white blends wines and wines from traditional method
For the red wines find yourself, Cabernet Sauvignon, Cabernet Franc, Syrah, Tempranillo, Mourvedre, Sangiovese, Malbec, Red Muscat, Pinot Noir, Pinotage, the Tarrango, Merlot, Pinot Meunier and also fortified wines such as port or sherry and wine assemblies