Aosta Valley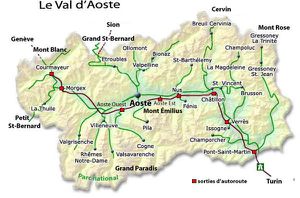 Aosta Valley
Is an autonomous region with special status. Its administrative bodies have a wide range of Italian central government, not only in terms of regional policy, but also in other sensitive areas, strictly related to the economy of the Alpine region. In particular, local authorities have considerable autonomy in the management of water resources, hydropower, natural resources and agriculture.
Valle d'Aosta, the wine tradition is thousands of years. The vine is very probably arrived before the Roman legions, with trade. Of amphorae remains found in the necropolis of Aosta and back to the fifth century BC probably represent the first evidence of wine activities.
Repeated drop of wine due to famine and barbarians and Saracens during and after the fall of the Roman Empire stop in the Middle Ages: during this period, indigenous varieties are recovered and widespread. The introduction of traditional varieties takes place from the fifth to the eleventh century AD. It is at the end of the nineteenth Aosta Valley vineyard is the largest, with 3,000 hectares cultivated.
After the onset of diseases imported from America, the French and Piedmontese grape varieties are introduced significantly. From this period, there has been a gradual decline in the area planted to vine, until you get to only 500 ha in 2000. Then, the trend began to reverse.
Long located at the intersection of strategic military and trade routes between France, Switzerland and Italy, Aosta or the "Little Rome of the Alps" retains many traces of its history as:
The megalithic site of Saint-Martin-de-Corléans,
the triumphal arch of Augustus, the Roman gates Aosta Aosta's Roman theater can accommodate 4,000 spectators, and the amphitheater
Roman settlement, it then became part of the kingdom of the Franks, the Carolingian Empire and the Kingdom of Burgundy, and the states of Savoy before integration to Italy in 1860. However, it was part of the First Empire from 1800 to 1814 constituting the district of Aosta.