Vineyard in South Africa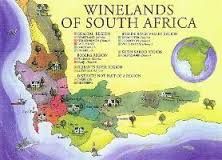 Vineyard in South Africa
Sixteenth in the world for the area and the seventh for volume. The districts of Stellenbosch and Paarl provide 45% of the wine production.
Viticulture in South Africa has developed from the seventeenth century. It took her size with the arrival of two hundred French Huguenots.
Jan van Riebeeck, who was the first governor of South Africa, ordered the planting of vines Dutch. Whose first harvest took place in 1659, later with the arrival of two hundred Huguenots in 1688, notably from the Luberon and Charente, expelled from France after the revocation of the Edict of Nantes came to settle in the valley Franschhoek. They gave a decisive impetus to the Cape wine.
The first exports to Europe date from 1761 (at the beginning, mostly fortified wines (Port Type).
In 1918 was created the KWV (Vereniging van Koöperatieve Wijnbouwers Zuid-Afrika Bpkt) cooperative which then consisted of 95% of producers. The KWV fixed yields per hectare and the price of wine in 1924: particularly low coercive yields (up to 350 hl / ha during apartheid).
Boycotted during the apartheid era, the South African wine known since the last twenty years a renaissance and seems to conquer export markets in the direction of Europe, where they have taken root in countries like the United Kingdom.
The climate is similar to that of the Mediterranean countries, with mild, wet winters and hot, dry summers. The sun is important, with short but heavy rains, the vineyards are located in the south western region of the country, between Cape Town and the coast, in the northeast of the country have also found vineyards, Olifantsrivier and Orange River The viticulture is practiced in larger as those near the coast, Swartland, Tulbagh, Paarl and Stellenbosch, with the Breede River region areas.
Primarily located, on a massive ancient eroded Cambrian. The vineyard is planted on areas of granite, schist, and in alluvial plains. Bedrock districts of Stellenbosch and Paarl consists of argillaceous sediments of the late Proterozoic granitic masses with sandy sediments and the early Devonian. This substrate is covered with river gravel, sand, kaolin and clay layers, which with their ability to retain water during the summer months provide beneficial moisture to the vineyards.
The Grapes grown are Riesling Cape, Chenin Blanc, Colombard, Sauvignon Blanc, Chardonnay, Pinotage, Cabernet Sauvignon, Merlot, Pinot Noir, Syrah, Pinot Gris, Pinot Grigio, Chardonnay, Pinot Black, Viognier, Malbec, Rousanne.
Pinotage, a real specialty of South Africa, is derived from Pinot Noir and Cinsault, some of the wines from the Pinotage age very well.
Also found in blended wines varietals from the region of Bordeaux, Cabernet Sauvignon, Cabernet Franc, Merlot and also assembly with Pinotage.
South Africa also produced sparkling wines, also called Early Autumn, the traditional method
The sweet wines of South Africa are made with grapes as the Muscadel and Muscat of Alexandria
Wine types port or sherry can also, can hold a good position in international markets.
Changing this country has reached a level of modern and high technology, with young people who come to study in the Bordeaux region