Uruguay and Vine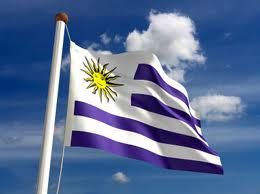 Uruguay and Vine
Uruguay is a South American country located in the south of Brazil and east of Argentina, which it is separated by the Uruguay river that gave it its name. Uruguay has a total area of ​​176,220 km ² and a population of 3,477,770 inhabitants.
The Uruguay, a small country in comparison with its neighboring countries like Argentina and Brazil, are also has history of viticulture.
The conquistadors introduced the vine to the 16 century, the monks who kept the production in numerous years.
The arrival of immigrants from Europe brought with them, the noble grape varieties, in particulary, from the French Basque origin , Tannat and la Folle Noire
The Tannat grape variety that originated in the south of France, in the region of Madiran and it gives a very good wine for aging.
Other varieties are also grown, such as Cabernet Sauvignon, Cabernet Franc, Merlot, Gamay, Malbec, the boba, the Garnacha, Barbera, Nebbiolo
For white wines, which are the majority of wines in Uruguay have found varietals like, Sauvignon Blanc, Viognier, Riesling, Pinot Blanc, Chardonnay, and Gewürztraminer, which are wines for the majority of them fresh and powerful.
Uruguayan vineyard is 8,400 ha, with a total production of approximately 1 million hectoliters. Red grapes occupent70% of the plantings with Tannat, from Madiran, is still today, nearly 25% of the plantings.
The majority of vineyards are grouped around the capital Montevideo. The wineries in Uruguay are family, the single gents are aware of the way to go to reach its neighbors, Argentina and Brazil.
With its hot summers and mild winters, the climate is subtropical in Uruguay (average 17 ° C) and rainfall is plentiful enough to render unnecessary any irrigation
With development for export, modification of the plantings, and modernization of wineries that gradually improves, Uruguay certainly join his two neighbors to the quality of its wines.
Uruguay
The history of this country actually starts with the Guaraní people and Charrúas. These were the largest and most organized group. Considered assimilated, their annihilation was decided shortly after the declaration of independence in 1830.
Considered in the 1950s, as the "Switzerland of America."
Nearest culturally Argentina brotherly country, for many Uruguayans countries. The lifestyle is tinted Guarani European and African cultures and the standard of living is comparable to that of Chile.
The relief is bound in the southern lands of the Pampas and consists of large undulating hills and crossed by low-lying plains called cuchillas. The most important are the Cuchilla Grande and Cuchilla de Haedo, the highest point in the country is the Cerro Catedral (Cathedral Hill) with its 514 m.
Uruguay's economy is characterized by agriculture and livestock including, as the country is in the extension of the Argentine pampas grasslands. Follow the industry, mainly food and tourism, which is growing more and more.
language, Spanish is almost the only language spoken. Portuguese is widely spoken second language, especially along the border with Brazil. English Is the langage use for tourisme.