Island of Madeira and the vine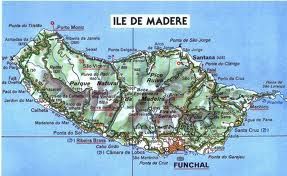 Island of Madeira and the vine
This island was discovered relatively late in 1351 to where it is quoted on a portulan Florence and Arab geographical documents.
The first Portuguese navigators launched in maritime explorations organized by Henry the Navigator ( João Gonçalves Zarco and Vaz Teixeira Tristão ) took refuge in Porto Santo, and they named in recognition of their rescue in 1419 and took possession of the king's name Portugal.
Madeira was spotted and addressed the following year by Zarco , Bartolomeu Teixeira and Perestrelo , the current location of the port of Machico.
But it is likely that the archipelago has been known since antiquity and especially the Phoenicians. According to Alain Bombard and Gilbert Pillot who led a very precise investigation of the voyage of Ulysses in the Odyssey , Madeira Island is where the god Aeolus gave Odysseus the Zephyr taking care to lock the other headwinds a leather bag .
It is distant about 660 miles from the African continent , 980 km from Lisbon , 400 km from Gran Canaria in the Canary Islands and 880 kilometers from Santa Maria, the nearest island of the Azores .
The archipelago is a terrestrial ecoregion in the classification of the World Wildlife Fund as the " evergreen forests of Madeira ." It belongs to the biome temperate deciduous and mixed forests of the Palearctic ecozone .
Viticulture
Quickly , viticulture was introduced there on the Island, May devastated by a volcanic eruption in 1470 , which had the effect of enriching the soil along with exceptional weather conditions , which makes Madeira a site conducive to viticulture
In UK Madeira quickly acquired a reputation , especially for these sweet wines that had their heydays in the 18th century , later with phylloxera , the vineyard was halved.
The vineyards grow at the foot of the volcano that dominates the island of the 2 000 meters and on the lower part of the south side , sufficiently distant from the floor so that it escapes the humidity.
Madeira is a fortified wine such as port , the characteristic of the wine depends entirely on the choice grapes are at the heart of travel we made ​​him cross the equator twice .
Today grapes are naturally heated by the sun, which produces accelerated aging , this technique is called ( maderization )
The grapes used are: Sercial which gives a light and dry wine, Verdelho with a lighter than Sercial dress , it has a taste reminiscent of honey, and Boal - Cachudo , which gives a sweet wine , soft and velvety