The Levant region of the Levant in Spain and Viticulture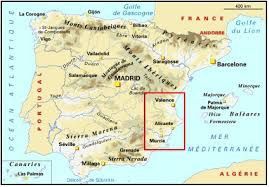 The Levant region of the Levant in Spain and Viticulture
The Levant region on the east coast of the Iberian Peninsula , which surrounds the city of Valencia Bullas , in the mountains of the Levant and arid wilderness , known for the quality of wheat are donated alcoholic red wine has long been used in the cutting of other less sunny regions .

Spanish Levant refers to the geographic area of ​​the Mediterranean coast of Spain , especially the Valencian Country and the Region of Murcia. It sometimes also includes the province of Albacete .
The territory is a former administrative and military division of the Caliphate of Cordoba that stretched between Cape Gata in Almeria is

With a production of 18 000 ha , exporting quantities of table wine to 70 % of production
Thanks to an earlier harvest and less obsolete methods of vinification they decided to transform their Monastrell grape same first local cooperatives put their Monastrell bottles instead of selling the cellars of Valencia .
Valencia being the center of viticulture in the Levant
Blackish must also nome Alicante helped into the 1980s to revive the color of pinot maint Ahr or Lemberger Württemberg


Region of Murcia

Region of Murcia combines excellent weather , the summers are long and hot and winter is short and sweet. These complex land and human skills for growing vines and making wine quality are , of the 45 000 hectares of vineyards, wines.

3 AOC region : Bullas , Jumilla and Yecla .

The predominant varieties are Monastrell , Cabernet Sauvignon, Syrah and Merlot .

Albacete

Albacete is a city in Spain . It is located about 300 km southeast of Madrid, in the historical region of La Mancha
Albacete has several wine regions , especially that of Almansa . Its wines are increasingly known and there many wineries that you can visit . A full-bodied red wine Albacete , as Jumilla, ideally accompany this generous cuisine.

Albacete city was founded by the Roman Empire on a volque village, and takes its name from Alba Cita , the White City , or rather the City of Dawn because it is one of the cited located Eastern Roman Spain .

Outside the city of Albacete itself, the province offers many attractions and diverse, including natural parks , towns and villages. The town of Chinchilla de Monte Aragon, with its winding medieval streets ,
the surrounding countryside with its mountains, well worth a stop .

As in all areas of Spain , Albacete has a cuisine of its own and must absolutely be tasted. It can be described as rich , hearty
Gazpacho manchego nothing like his famous Andalusian distant cousin. It is a rich broth with meat partridge , pheasant, pigeon , hare , rabbit or chicken, flavored with herbs and spices and thickened by adding pieces of bread special, called Torta de Gazpacho .