Galicia and the vine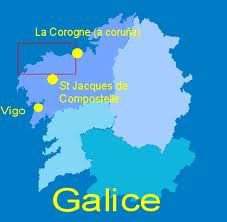 Galicia and the vine

Galicia is characterized
unlike other Spanish regions , the absence of a city dominating the territory. Indeed, the urban network consists of seven major cities and other towns

Galicia ( Galicia or Galiza Galician , Castilian in Galicia ) is an autonomous community with the status of a historical nation, located at the northwest tip of Spain. It is surrounded by the Principality of Asturias , Castile and León , Portugal , Atlantic Ocean and the Cantabrian Sea . It covers an area of ​​29,574 km2

Galicia consists of four provinces , La Coruña, Lugo , Ourense and Pontevedra .
Saint- Jacques de Compostela (Santiago de Compostela ) , located in the province of A Coruña, is the political capital of the autonomous community , without being that of the province .

Galicia owes its name to Gallaeci , name given by the people of this region an area up to the Douro river. it is a Celtic region today with Portuguese influences

The Roman conquest ( 137-22 BC ) , was motivated by the mineral wealth and has created over the centuries , a culture where indigenous elements have emerged with increasing force .
Roman roads, bridges ( Bibei , Ourense ) , walls (Lugo ) and farms around Villae gradually changing the country's image .

The two official languages ​​are Spanish and Galician

The most lasting influence left by the Romans remains the Galician language that develops from the Latin spoken in this region,
The region has rocky soil types , granite ,

On the map of Spanish vineyards .

The excellent wines of Galicia were then reserved for restaurateurs and hoteliers in the region , who bought in barrels ,

Vineyards is 450 meters above sea level on average produce 90 % of whites
This region forms an angle above Portugal , attracting few tourists , although thousands of pilgrims every year on the cross roads of Santiago de Compostela

it remained isolated for a long time and growers continued to cultivated ancestral varieties that make the charm of their wines with the Albarino , the Godello , and Treixadura Rias Baixas
, the most famous is the name of Galicia , white wines are On Albarino have an excellent reputation , also produces a red wine from the Brancellao and caino
The white Albarino is made only from grapes of the same name

the Ribiero

Is within the country , in the province of Orense
Growers have sought the best varieties , microclimates and soil types , the wines they produce today are now very popular and good quality .

Spanish and foreign investors interested in the region, the equipment used have improved and new wineries have installed in order to improved production
White and red wines for daily consumption

The white wines are produced with Treixadura , along with other varieties such as Palomino, Torrontés , Albarino , the Loureira the Godello , wine of superior quality are made from Albarino , red wines are made ​​from them Caino accompanied the Grenache, Mencia