Sicily and wines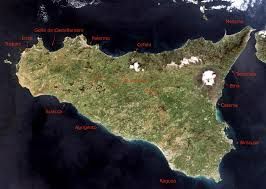 Sicily
( Sicilia in Italian and Sicilian )
It is one of Italy and the largest island in the Mediterranean autonomous region. Its capital is the city of Palermo. The flag , the gorgon three legs ( Trinacria ) , represents the three points of the island, western tip of Trapani- Marsala, north-east of Messina and south- east of Syracuse .
Sicily has more vineyards than any other Italian region .
Nearly 70 % of the grapes are white and about 180,000 hectares planted , Sicily produces 8 million hectoliters of wine, 400,000 hl from 20 000 hectares composed by 9 DOC . For comparison Sicily produces more wine than the whole of Australia .
Much of Sicilian wine is produced by cooperatives, but fortunately for years yields have been modified in order to create wines with confirmed characters and typical Sicilian identity.
A number of increasingly important areas of private applies to create wines of excellent quality.
Since antiquity, Sicily was known for the quality of its wines. Sicilian wines have always enjoyed an excellent reputation.
The island has preserved, often intertwined , sumptuous remains of its successive occupants : Phoenician , Greek, Roman , Arab , Norman ...
The Phoenicians were the first to introduce the vine,
Thereafter, the Greeks ( eighth century BC.) , Find a fertile ground in Sicily for the cultivation of the vine and wine and five hundred years of peaceful coexistence they spent on the island, they transform the habits of Sicilians , they became true experts in viticulture
During the Roman period . During the following centuries the church soutena viticulture.
After the advent of Christianity, the Church continued to support viticulture.
With the barbarian invasions ( fifth century AD.) , Production experienced a break
Belisario in the Byzantine 535 AD. BC allowed the Sicilians to focus on agriculture, although it did not last .
Muslim invaders ( 827-878 ) éliminèrent wine production without the ban .
Viticulture returned to the arrival of the Normans , but for reasons of excessive taxes , Charles d'Anjou in 1266 prompted the people to not establish vineyards.
With the Aragonese and the Spanish, agriculture and viticulture were developed significantly.
Late 18th century with English Woodhouse, Sicilian wine production has boomed thanks to the large-scale commercialization of Marsala wines .