The vineyards of New Mexico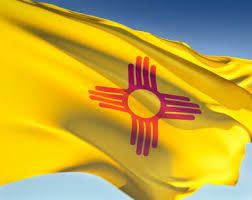 The vineyards of New Mexico
New Mexico, in Navajo (Yootó Hahoodzo) is a state located in the southwest of the United States bordered on the west by Arizona, in north by Colorado, on the east by the Texas and south by the States Mexican, Chihuahua and Sonora. It is One of the four states of the Four Corners,
New Mexico has an area of 314,926 km² and a population of 2,059,179 inhabitants. Its shape is close to a square 550 km, with Santa Fe, for State Capital.
The rebirth of the wine industry in New Mexico began in 1978.
The New Mexico today , have nearly 56 wineries and tasting rooms for nearly 337 different wines produced nearly 700,000 liters of wine per year. The state's wine industry is once again well restored.
The ground bathed in sunshine of New Mexico desert and cool nights supervise the return of modern wine production in this wine region, the oldest in the country. Are desert climate, with an ideal feeding ground grape varieties grown in the region.
Such as Chardonnay, Chenin Blanc, Edelzwicker, Gewürztraminer, Muscat, Pinot Grigio, Pinot Gris, Riesling, Sauvignon Blanc, Semillon, Seyval Blanc, Viognier, with blended white wines and traditional method for wine white
For red wines are found:
Barbera, Cabernet Franc, Cabernet Sauvignon, Chambourcin, Dolcetto, Grenache, Malbec, Merlot, Montepulciano, Mourvedre, Petite Syrah, Pinot Noir, Sangiovese, Syrah, Tempranillo, Zinfandel, some Meritage and blend red wine.
But there are also wines with strawberries, blackberries, Cramberry, and raspberry.
Oldest US wine region of New Mexico with a real tradition of hospitality, with professionals from the vine industry helping you to make the most of your stay, you are wine lovers or experts and guide you along the wine route in New Mexico
Wine production began on Senecu in 1633 and continued for over 40 years, providing sacramental wine for New Mexico country.
The first vines planted in what is now the state of New Mexico were made in 1629 to Senecu a Piro pueblo, south of Socorro, by Fray Gracia Zuniga, a Franciscan, and Antonio de Arteaga, a Capuchin monk . Mission San Antonio de Padua, in Senecu, was located on the east bank of the Rio Grande, just north of the village of San Antonio. The cuttings brought by the missionaries were a variety of Vitis vinifera, commonly called the "mission grape". This variety is still cultivated today. Historians believe that it is a European variety of Spain, called Monica.
In 1800, New Mexico was the wine country. At that time, the vineyards that stood on a strip along the Rio Grande extending approximately from Bernalillo to Socorro and near Mesilla in El Paso.
There are two places to visit, where you can find simple tastes, with wines that show the passion and commitment of winemakers that develop the best grapes of southwestern New Mexico, west of Deming in middle of the Mimbres valley, and in Old Mesilla.
Be sure to attend the annual festivals of wines of southern New Mexico, or at Albuquerque Wine Festival, which are very popular and easy way to sample the many local flavors while enjoying exceptional wines and region food.
The Arid climate of the state on average receives 380 mm of rainfall per year, due to the monsoon affects the southwestern US.
The temperatures are moderated by the altitude so that by winter frost is common at night and the precipitation occurs as snow. Temperatures have extreme seasonal variations but also diurnal.
The climate is far from homogeneous throughout the territory because of its relief and its major expansion in latitude and longitude.
The summers are very hot, even at a relatively high altitude as the maximum reached 33.3 ° C in July at Albuquerque, located at 1600 m and 29.8 ° C in Santa Fe located more than 2000 m.
To find warmer weather you have to go even higher. In Los Alamos, located at 2200 m, the maximum is no more than 26.7 ° C in July.