The Vines of San Francisco Bay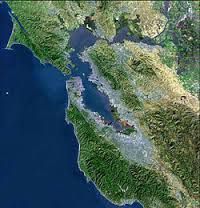 The Vines of San Francisco Bay
San Francisco Bay Vineyards are located in the north of San Francisco. Which includes: Alameda County, Contra Costa County, Santa Clara County, San Francisco, San Mateo County with a parts of Santa Cruz County and San Benito.
Established in 1999 the vineyard area comprises today over 6100 km2.
Often overlooked, it is in the shadow of its neighbors, of great wine regions like Napa Valley or Sonoma Valley, the San Francisco Bay is definitely a wine region to discover.
It is located at the entrance of the great wine regions of Northern California, with Marin County, in north, and Ivermore-Valley to the west with the Ben Lomond area and San Mateo in the south.
This region of San Francisco Bay is blessed with a climate and a sol diversified, that produce some outstanding wines. The vineyard area is concentrated in the Livermore Valley, where about 3,000 hectares are currently planted grapes.
They vineyards in this region are often small vineyards Craftsmen, offering exceptional wines with a good quality, with some a soil and climate of coastal bay, that pleasantly encourages the vine.
San Francisco Bay includes four small regions Livermore Valley, Pacheco Pass, San Ysidro District, and Santa Clara Valley.
Centrally located, San Francisco is positioned as a true gateway to the wine country.
San Francisco Bay, now includes more than 160 wineries for more than 1000 references, among which were found the main grape varieties such as: Barbera, Cabernet Franc, Cabernet Sauvignon, Carignan, Chianti-Red, Colombard, Dolcetto, Red-Gamay, Grenache, Malbec, Merlot, Nebbiolo-Red, Montepulciano, Mourvèdre, Petit Verdot, Petite Syrah, Pinot Noir, Syrah, the Meritage, and blended red wines
And Chardonnay, Chenin Blanc, Gamay-White, Gewürztraminer, Moscato, Muscat Orange Muscat, Pinot Grigio, Pinot Blanc, Pinot Gris, Riesling, Sauvignon Blanc, Marsanne, with cider and blended white wines , for white wines.
Livermore Valley
Is located in Alameda County, surrounding the city of Livermore in the Tri-Valley
Wine was grown in Livermore since the 19th century, with the Cresta Blanca Winery (founded 1882) with his first vintage in (1884) winning the Grand Prix at the Paris Exhibition of 1889.
A new way to explore vineyards, is used the Livermore Wine Trolley, that you are in the area for a day, or several days.
The trolley makes you discover the wine route, surrounded by lush hills, rolling canyons, and wineries of the Livermore Valley, accompanied by a hospitality tradition, recognized by all. Allowing you, to learn more about the region and wineries.
Located just 35 miles east of San Francisco, Livermore Valley is one of California wine regions and home to over 50 wineries. Connoisseurs consider it, like one of the California hidden treasures, with excellent restaurants, fine shops, golf courses, and a vibrant nightlife.
The soil mainly covered with gravel, on a east-west unique, different from many other wine-growing valleys. Due to a onshore wind in the afternoon, and a large fluctuation in temperature between different valleys, and bringing some difference in temperature from San Francisco Bay.