Vineyards in the province of Salta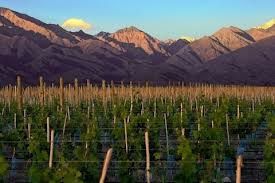 Vineyards in the province of Salta
As in all of South America, Jesuits introduced vine in this region.
The winemaking tradition dates from the 19th century , in recent years, the cellars were equipped with the latest technology, allowing them to produce wines of high quality.
Calchaquíes valleys , especially in Cafayate, producing for 90 % of the vines with 3,200 hectares of cultivated vineyards. All the rest is distributed between Cachi , Molinos and San Carlos , who are also producing towns wines
The vines are grown in these valleys from 2,400 m. to 3,000 m over the sea and are among the highest in the world, with 520 km of roads have through more than 2,500 hectares of vines grown
Rare rains, and high thermal amplitude, obtain to the fruit some concentrates and robust wines with a great personality. Soils are sandy sediments, provide good drainage condition .
Torrontés is like in the rest of Argentina the most cultivated grape , among other grape varieties were found , Malbec , Cabernet Sauvignon, Tannat , Syrah , Tempranillo, Pinot Noir, Bonarda , Cabernet Franc , Merlot, Carmenere , and blended wines .
For white varietals found Torrontes , Chardonnay, Chenin Blanc , Sauvignon Blanc, Riesling , Viognier , Pinot Grigio , and wines traditional method.
The gastronomy of Salta is a gem , with hearty regional dishes inherited from ancient recipes and perfectly accompany wines .
This region of Salta is of singular beauty , and is located in a privileged by its enormous natural and cultural wealth inherited from the former nation Diaguita place - Calchaquí . it offers a range of varied landscapes combine, the puna valley, the forest, and gorges.
These descendants of the empire Inca.et their artisans are many attractions along the road wine of the province.
With boutiques hotels, and , spas, which offer many opportunities for you to stay and relax in a regulated environment vine . Accompanied by the friendliness of the people , and the authenticity of their kitchen,
Province of Salta
Is a region of Argentina, located in the extreme northwest of the country. It is bordered to the north by the province of Jujuy and Bolivia, to the east by Paraguay, Formosa and Chaco Province , on the south by the provinces of Santiago del Estero, Tucumán and Catamarca finally the west by Chile.