The vine in Rioja Argentina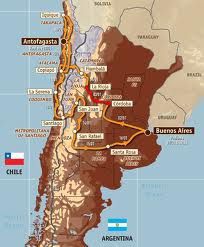 The vine in Rioja Argentina
Agriculture La Rioja depends on a few small rivers and oases that allow irrigation. The cultivated land is 500 km². The vine is the main production , followed by nuts and olives. Also included cotton plant .
The main activity of the province is the vine and its associated production,
Wine, especially in the area around Chilecito , has a production of 8 million liters per year.
The climate is semi-desert which develops a clean and dry vegetation that prevents the growth of vines.
Throughout the wine basin , soils are relatively deep , fertilizing poor soils is solved by an intelligent irrigation.
The vineyards of the Rioja grows thanks to irrigation drip irrigation this is made possible by a water table between 40 and 60m deep.
Provided the spring waters of the Andes , coupled with 400mm annual rainfall is not enough to supply the water that falls from 1m annually . A sad reality made ​​possible by an uncertain political climate and the lack of regulation of abstraction points .
This Viticulture Rioja , is located between the mountains Velasco and the moutains of Famatina , its area reached 90 000 km ².
On hectares of cultivated vineyards are found in varieties such as Torrontés Sanjuanino , Torrontés Riojano , Syrah, Moscatelde Alejandia , Cabernet Sauvignon , Malbec and Chardonnay
In this region breeding cattle ( 250,000 head) and goats ( 150,000 heads ) are secondary activities . Clay is the primary mining, and uranium is mined near the town of El Colorado.
La Rioja
The province of La Rioja is located in the center -west of the country, the so-called Sierras Pampean region. North -east , on the edge of Catamarca, is the volcano Monte Pissis , top 6795 m , the highest peak of the province , and the third highest in the continent.
The rivers of the province are the Río Bermejo - Vinchina . The latter, most importantly, through the region of the pre- cordillera and then move to the province of San Juan . Other streams, we must mention the río Abaucán , Río Famatina and Rio Durazno . These last two, well fed by the snows of the Sierra de Famatina , participate in irrigation oasis of the long valley Antinaco -Los Colorados in the central part of the province, including the oasis of Chilecito .
Tourism has a bright future ahead of him, as the natural beauty of the province provide an attractive invitation.
Tourists visiting La Rioja go to Cerro La Cruz, the thermal baths of Santa Teresita with hot baths, there is also the gastronomy and wines. Regarding the latter, it must be stressed Chilecito city , at the foot of the mighty Famatina .
Since the locality of Villa Unión , you can access the Talampaya National Park which, with its impressive landscapes , and its paleontological wealth was included in the World Heritage Site by UNESCO.
Provincial Reserve Laguna Brava is another protected site situated in the Andes, in the western part of the province. It is renowned for its population of flamingos and was declared a Ramsar Site . It also offers great views and a pathway to some giant volcanoes of the Andes