The Ahr & Viticuture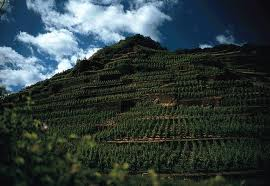 The Ahr & Viticuture

the valley is the wild and impressive
Ahr is located south of Bonn, near Bad Neuenahr- Ahrweiler
It is a smaller German wine regions , please hikers and nature lovers. Once the walker reaches the top of the Eifel , nothing can make him more pleasure than a glass of chilled Red Portugieser

The Ahr is a small river in Germany North Rhine- Westphalia and Rhineland -Palatinate, a tributary of the Rhine.
She sprinkles Arenberg (Eifel) , Bad Neuenahr -Ahrweiler ( spa ) and flows into the Rhine near Remagen, after a course of 89 km .

Viticulture is practiced in the valley which is very touristy with vineyards and picturesque villages.
The vineyards of the Ahr is a German wine region located along the river of the same name, Altenahr Heimersheim , near Bonn. With 548 hectares planted in 2006, is one of the smallest wine regions in Germany . Table wines are sold under the name " Rhein -Mosel " and intermediate quality wines
The culture of the vine is attested in the Ahr valley from the second half of the eighth century. The vines belong to several abbeys , notably that of Prüm and various noble families . In the fifteenth century , the region was under the authority of the Archbishop - Elector of Cologne

After the Congress of Vienna , the culture of the vine is experiencing a renaissance , protected by the recovery of customs barriers. However, the entry of Prussia in the Zollverein in 1833 brings new problems. Poor harvests, the decline in exports to Belgium, carelessness lead to a decline in the vineyard and in the 1860s , many families abandon the culture of wine and emigrate to America. To cope with these difficulties, wineries based in Mayschoß one of the first cooperatives in 1868. In all, twenty cooperatives were created before 1898 .

While the German wine is dominated by white wines from the Ahr are predominantly red , which is , despite its small size, the largest area of production of red wine in one piece in Germany. The most common is by far the vine Pinot Noir ( Spätburgunder ) with more than 60% of surfaces.
The Har is indeed an area of ​​red wines , although the volcanic soil , combined with large amounts of shale , also makes it a suitable site for white high class , the decision to produce red wines notes however, more wine economic reasons.
The rest of Germany producing quantities of good white wines , the available area is limited , growers felt they would benefit more by planting black grapes , both red grape varieties, Pinot noir and Portugieser give very drinkable red wines , elegant and fruity
They are complemented by Riesling and Müller -Thurgau , which are elegant and fresh wine name " Ahrtaler Landwein ".

The climate of the region is nowadays not particularly favorable to the vine but its culture has been sustained on the left bank of the Ahr , facing south and protected by the Eifel which limits rainfall and allows more sun .