Vineyard in Saale Unstrut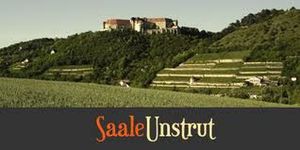 Vineyard in Saale Unstrut

This small region located south of Halle and is the most northerly vineyard in Germany and even Europe , with Britain
The rigor of the continental climate forcing farmers to harvest their grapes as early and as quickly as possible
We do not find a lot of sweet wines here and even less late harvest . Most wines are dry and often quite sour
The white grapes are particularly pleasing on the ground coquina , but rare red demonstrate the possibilities of the region. Müller Thurgau , which is not demanding and productive successfully gives plants and fresh wine a pleasant parfun
The Sylvaners nevertheless lead to better and lively wines and fresh acidity more moderate and citrus nose
The best are reserved for Riesling , which gets particularly well on chalky soils
Riesling is strong fresh, it has body and a nose of pepper characteristic
The Weissburgunder and Traminer give reasonable wines are drunk easily and sooner preferably red Portugieser exudes a seductive scent .
Have to serve the Germans wines to their ideal temperature
Serve whites too cold and reds too is chambered errors

Saale- Unstrut is a wine region in Germany in Saxony- Anhalt. whose largest city is Freyburg Unstrut . It is the most northerly wine regions of Germany and has a cultivable area of ​​600 hectares Its shape follows the watershed of the Saale River. The wines of this region are mostly dry , and similar to the wine region Nahe . which extends along the rivers of the same name of the wine region of northern Germany.
cottages and vineyards extend steep terraces with stone walls , rivers and valleys that characterize this area of ​​760 hectares of vineyard Saale- Unstrut
Route Southern Romanesque route leads through the region.
Viticulture in the Saale- Unstrut region has a tradition of 1000 years.
Already in the year 998 , in an act of Emperor Otto III . wine is mentioned. Some time before that , with the expansion of Christianity.
The wine region today lies in the Länder of Saxony -Anhalt ( 639 ha) and Thuringia ( 108 ha). Geographically separated from the actual Saale- Unstrut region also includes in Brandenburg wine region in Werder ( Havel ) (10 ha) for quality wines wine region Saale- Unstrut also 3.2 hectares Westerhausen
Quedlinburg and Thale northern Harz
In the region with 60 km long road vineyards Saale- Unstrut . Of which leads to Memleben Unstrut and Saale long and extends north of White Rock.
Höhnstedt around in the lobby invites another wine road 20 kilometers long and connects the " lakes Mansfeld " Zappendorf
Also the 20 km Wine Route " Weisse Elster " leads the monastery after Wetterzeube Posa in Zeitz .
typical wine Saale- Unstrut characterized by a fine and fruity nose with mineral notes. soil and limestone , but also sandstone, loess loam and slate copper can be found. In the valleys of the rivers " heat islands " to a particularly mild microclimate.
The sun shines approximately 1,600 hours per year. With about 500 mm of precipitation per year , the wine region is one of the driest in Germany. Average yields are around 50 hl / ha
in the Saale- Unstrut there are over 50 different varieties that are developed mostly dry . On the list of white wine are Müller -Thurgau , Pinot Blanc and Pinot Gris as well as Bacchus , Riesling, Sylvaner , Chasselas and Kerner 24% of cultivated wines are red wines such as fields of thorns, Portugieser , Pinot Noir and Blauer Zweigelt .

The area around the Saale and Unstrut is famous for its forts, palaces and churches .
Vine has been used in large parts of Thuringia viticulture. So 786 Viticulture in Dorndorf the Werra ( Westthüringen ) is held in the year.
The Saale- Unstrut , it is mainly the monks of the Cistercian Abbey of Sancta Maria Schulpforta , founded in 1137, which have developed viticulture.
Wine at this moment was not only a privilege but also food for the population, because drinking water was scarce in the 16th Century thrives wine with a cultivated area of ​​10,000 ha
the Thirty Years War and the deteriorating climate has a major setback . E also coffee, tea and cocoa arrive, cheaper wines are also imported from other regions
In 1835 the company was founded Naumburg , which aimed to improve agricultural and Rebenneuzüchtung methods.
In 1887 the phylloxera decimated the vineyards
In 1919 Naumburg biological Imperial Institute was founded acreage was only 100 ha under looking for a way countered phylloxera , Carl Börner has shown that Americans have resistance to phylloxera vines
Since 1923 , the Pfropfrebenanbau in Germany approved the fight against phylloxera.
After 1945 , the wine can only survive by cave for tourism in the Saale- Unstrut , until finally the wine has been supported by the state in the 1960s and the vineyards have pus be stretched again . After this turning point came a sustained recovery until today to come to total surface area of about 760 ha today.