Germany & Vineyards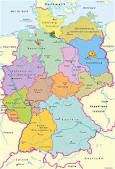 Germany, officially the Federal Republic of Germany ,
Federal Republic of Germany by German Deutschland , is a country in Central Europe , surrounded by the North Sea , Denmark, and the Baltic Sea to the north, Poland and the Czech Republic to the east by Austria and Switzerland in the south , and by France , Luxembourg, Belgium and the Netherlands in the west.
With approximately 80 million inhabitants, Germany is the most populous country in the European Union and the largest economy in Europe. She is also a founding member of the European Union.
Germany is a federal republic consisting of sixteen federal states ( Bundesländer - Official German Länder ) . The country has long been established in several states more or less autonomous , aware of their own history

Language and Latin texts show us that the Germanic people mention dates back to Roman times. However historians agree to find the origins of German territory sharing Verdun 843 . Louis the German received during this sharing, is of the Carolingian Empire , named East Francia . This is what the East Francia from the Holy Roman Empire founded by Otto I , called the Great ( 936-973 ) . This empire includes, besides the territory of today's Germany, northern Italy and Burgundy .

The north is occupied by the plain of Northern Europe, formed by Quaternary glaciers , with highly differentiated landscapes, the center by ancient mountains little higher elevations , the south by a sedimentary basin and the Alps . This country, bordered on the north - west by the North Sea and north -east by the Baltic Sea, occupies a central place in the European Union by its location, demographic power , industrial and commercial . Much of the western part of Germany Rhineland Europe the most dynamic region of Europe and one of the most dynamic in the world .

Reunification in 1990 has changed the organization of the German space. The Rhine area , however, remains the heart of Germany and the busiest axis , both economically and demographically despite the necessary transformation of the Ruhr. Frankfurt and the conurbation Rhine- Main continues its role of financial capital.

Viticulture in Germany
She arrives in sixth place among the nations of the wine world , a large part of the production is for export , which does not prevent the German import considerable quantities of wine
It seems that some of the best German wines , but also some of the worst go to the export markets while German themselves prefer to drink beer or imported wines ,
Compared to France wine consumption in Germany is very low.
Currently more and more consumers are turning to s affordable wines , they may find themselves in Germany at prices very competitive.
Over the past decade there has been a growing demand for high quality German wines , but at reasonable prices .
In the case of dry wines , demand has exploded
Most operators have adapted quickly to the environment
Growers continue to seek ways to ensure wine quality while maintaining price acceptable to all levels.
Because of its climate , Germany is a country of white wines , although some operators are able to produce excellent red wines
Although the quality of red wines has improved, the white varieties occupy a little more than 85 % of the area of the German vineyards.
Before reunification , the proportion of red grapes has increased sharply from 13 % in 1984 to 19% in 1994
As the wine regions of the former GDR grow mainly varieties of white grapes, this proportion decreased slightly .
The choice of cultivated raisains has also changed in the direction of a better quality, Müller -Thurgau , very productive, thereby loses ground against the Riesling . Besides these two main varieties you 'll find the Kerner Sylvaner , the Scheurebe , Bacchus , the Ruländer or Grauburgunder , Pinot Gris of Morio Muskat well as the Huxelrebe of Faberrebe of Gutedel , Chasselas , the Weissburgunder , Pinot Blanc from Ortega, of Elbing , the Roter Traminer , the Ehrenfelser , Optima , and the Reichensteinedr Oerle
The first is the red grape Pinot Noir , followed by Blauer Portugieser , Trollinger , the Mûllererebe or Pinot Meunier, Dornfelder , the Lemberger and Heroldrebe
Are in all German wines are fruity
The German wine for the most part is located between the lake and the Constence & Lake Ahr , north of Koblenz, but also includes two small regions near Dresden and south of Halle
Thirteen wine regions in all, eleven south west and there are two to be
Each of these regions different products different wines taste and style reflect the soil , microclimate , opportunities and preferences winemaker and finally, of course , market requirements
It is impossible to treat every type of German wine
In general we find that the wines from the provinces to the north and east are mostly mild , moderately fruity wines have grown south generally most body ,