Vineyard in Sonoma Valley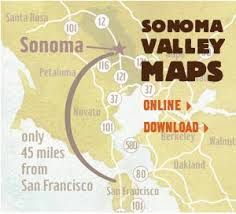 Vineyard in Sonoma Valley
Sonoma Valley
Located just 30 miles from San Francisco, is dotted with small towns like Sonoma, Kenwood and Glen Ellen, each with a story to tell, Sonoma Valley is a destination for those who crave deep. Whether visiting or you enjoy Sonoma Valley wines, is an experience that you will cherish.
Accessible via US 101, over the north of Golden Gate Bridge, geographically, the valley is bordered to the west by the Sonoma Mountains and to the east by the beautiful Range Mayacamas, and shares. a border with Napa Valley.
Sonoma County is a paradise for wine lovers travelers, with more than 400 wineries, it is positioned as the second wine region of California, and first wine tourism destination in 2012. The roads are lined with vineyards, with some even being certified biodynamic.
The proximity to San Francisco, Sacramento and Yosemite, makes it an ideal holiday destination in Northern California.
The county offers accommodation options for every budget, including branded hotels and small inns.
The climate is warm and sunny, days see very hot inside: with cool nights is covered by a fog of cold air descending from the Pacific Ocean, from north to the south from Bay of San Pablo. with some very little rain in summer.
In Sonoma Valley we find fifteen appellations. Which are:
Alexander Valley, Bennett Valley, Carneros, Chalk Hill, Dry Creek Valley, Fort Ross - Seaview, Green Valley, Knights Valley, Moon Mountain, Northern Sonoma, Pine Mountain - Cloverdale Peak, Rockpile, Russian River Valley, Sonoma Coast, Sonoma Mountain, Sonoma Valley.
In This County wines are wines of higher quality, accompanying dishes of the region made with products directly from local farms.
Indeed farms and ranches provide restaurants from many years.
The products come from fertile land, and the fish is always freshly caught, Sonoma is also a paradise for gourmets, restaurants starred with wines bars, without forgetting the local markets farmers.
With 15 wine regions, Sonoma County is the most diverse region of the United States for the vines.
Often winemaker themselves, are happy to talk about their vineyards and how wine is produced, Pinot Noir, Sauvignon Blanc, Chardonnay, Cabernet Sauvignon, Zinfandel, Merlot, Syrah or otherwise, in the many wine tasting rooms, offering free tastings will be people who serve your wine.
There are over 80 products in the Sonoma wine
region or have found them: Cabernet Sauvignon, Pinot Noir, Red Sangiovese, Zinfandel, Petite Syrah, Carignan, Syrah, Merlot, Meritage, Cabernet Franc, Grenache, Tannat, Pinotage, Charbono, Petit Verdot, Malbec, Dolcetto, Tempranillo, Gamay-Red, Carmenere, Red-Barbera, Ports wine and Blend red wines.
For white wines have found they: Chardonnay, Chasselas, Cinsault, Pinot Grigio, Muscat, Sauvignon Blanc, Viognier, Roussanne, Riesling, Moscato, Gewürztraminer, Zinfandel-Rosé, Semillon, Pinot Meunier, Chenin Blanc, Tocai Friulano, Pinot Gris, Muscat Canelli, Colombard, Orange Muscat, Pinot Blanc, Aglianico, Blanc de Blanc, as well wines from the traditional method.
Sonoma is one of the most diversified natural destinations in California, with more than 40 state parks and regional parks,that call for hiking in its redwood forests, paddling along the coast or rivers, or just enjoy the sounds of nature. Without Forgot whale watching along the coast or a hike through the vineyards.
The 4000 square kilometers of nature in the county, are incentives to explore for travelers. They 2 250 kilometers of uncrowned roads, are accompanied by bikeways are attractive for wide variety of riders.