Small wine regions in northern California Coast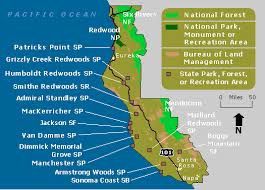 Small wine regions in northern California Coast
The North Coast of California
Also called the Redwood Coast, extends between the San Francisco Bay north to Humboldt Bay in Oregon border.
Often inaccessible, The coastline includes rocky cliffs and hills.
The inner area is characterized by rugged mountains interspersed with rivers, valleys and canyons, which are generally narrow, and the Redwood Forest, with Giant Sequoia, forests of oaks and pines.
Bordered by Highway 101, that runs through the region connecting they small towns that it is on this side of the Pacific Ocean.
Everywhere north of this coast, we have found small wine regions located six hours' drive from San Francisco as regions: Bayside, Fieldbrook, Lewiston, Montague, Myers Flat, Orleans, Point Reyes Station, Redding, Trinity Center, Weaverville, Willow Creek
In these areas visitors are welcome and tasting rooms are regularly open to the public, visitors are encouraged to come and make use picnic areas .
The climate varies with foggy in winters with heat summers like lead heated by the sun, the inland mountains in winter can be covered with snow.
Among the varieties produced in these regions is the: Pinot Gris, Gewürztraminer, Riesling, Viognier, Sauvignon Blanc, Trebbiano, Chardonnay for white wines
And: Syrah, Tempranillo, Zinfandel, Nebbiolo, Cabernet Sauvignon, Pinot Noir, Merlot Sangiovese, Barbera, Pinotage, Chianti, red, Cabernet Franc for red wines, as well as blended wines and wines from traditional method.
Bayside
Bayside located south-southeast of Arcata, at an altitude of (10 m) in Humboldt County, on Highway 101, is largely rural, with Victorian homes and small ranches that dot the landscape . A stone quarry is located in the hills of the region, which form the beginning of the beaches on the coast
Forests second most out of cleared land, which show signs of vast redwood forest that once existed. Is known for wine production wholesale
Redding, Trinity Center, Weaverville, Willow Creek
These four regions also have whatever vineyards
Trinity Rivers that is 45 minutes west of Redding, perfectly suited for fishermen, kayakers, hikers and those who just want to relax. Along the Trinity River, you will find locations and to Weaverville
Lewiston
Small historic mining town, Lewiston, is situated on the bank of the section of Trinity River, fly fishing .
If you are interested in doing things other than fishing or just relax, the area offers guides for day hikes in the remote alpine lakes where you can spread a blanket for a picnic at the foot of the Alps Trinity.
Redding
Is a city of the first party in Northern California, in a valley of Cascade Range.
Are climate is Mediterranean With hot, dry summer and hot, with mild winters and Rainy, summer temperatures can reach some day 45 ° C
Redding became a city-Step Passenger tourism, and is appreciated for are pleasant look , its surrounding lakes and recreation areas (National Recreation Area).
With Seven Hills Land & Cattle, a 2600 acre ranch, which has sprawling pastures, perennial streams, waterfalls and breathtaking views of Mount Shasta, Mt. Lassen and Trinity chain, Near the heart of the farm, there is a south-west facing gentle slope, overlooking the surrounding valley and draped robust and lush vineyards, for balanced fruit
Point Reyes Vineyard.
Offers a Mediterranean style, with romantic Bed & Breakfast, with a green and quiet setting, with a view, of the Inverness Ridge and its beautiful hills, located in western Marin County.
Orleans
The northern vineyards, of this beautiful region of Californian desert, is surrounded by national forest and a river that provides an ideal location to create wines of pure characters, that correspond to the place, with a control quality at every stage of the wine development.
Willow Creek
Willow Creek is located along the Trinity River
This area of ​​California is in the Trinity / Shasta / Cascade region near the Oregon border, rugged mountain community nestled in the heart of the Six Rivers National Forest. easily accessible by state highways 96 and 299.
The area is the site of the Willow Creek American Viticultural Area. Organic gardens and vineyards abound to accommodate travelers and offer tastings of their products.
This region have some experiences of hot and dry summers and cold winters , with a Mediterranean type, but is tempered by cool nights, resulting in temperature.
Montague
The two most northerly vineyards of California, less than 20 miles south of the Oregon border, it is in this region.
Are climate is hot and dry with a Mediterranean summer climate with average temperatures
It was a hub of livestock and railroad, with a rich history of traditions of the West
It is also the land of a giant volcano, Mount Shasta looking straight south through the valley of Shasta less than 30 miles to the south
Myers Flat
Myers Flat is located along California State Route 254
Due to its excellent location and southern Humboldt Redwoods State Park entrance, the city gets a lot of tourism during the summer months, with wines tastings and cold beers at the local market and liquor.
The Mediterranean climate is hot and dry in summer
Weaverville
Is located in Trinity County, have also includes an Taoist temple built in 1874 called "The Temple of the Forest under the clouds, also called Weaverville Joss House State, the best preserved of California is now in the Weaverville historic Park
The vineyards are located in Trinity County, nestled in mountain valleys or you can come to taste the wines and products of the county.
You can also take a scenic drive along the lake of Trinity, or enjoy a picnic in the afternoon in a nice day
The 9 600 hectares of vineyards are located in the area of "Trinity Lakes," known for its unique growing conditions. Vineyards have picnics areas for your enjoyment