The Nahe Valley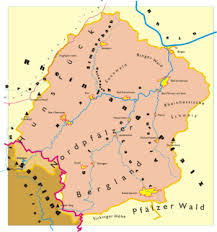 The Nahe Valley

Pearl of the south –west

Nahe is located west of the Rhineland on both sides of the river , the wine point of view, the Nahe forms a bridge between the Moselle wines and those of the Rheingau

Around Bad Kreunach , Sol consists of humus and sand

Nahe is a river that rises in the saarland ( saar ) , runs east -northeast and empties into the Rhine near Bingen Am Rhein after 115 km course .
Thus, a wine room in this area is always a foray to discover the treasures of nature. Complete your stay with a tasting of underground wine or visit the German Gemstone Museum , or a wine fair and holidays in a vineyard .

Your stay in the wine valley of the Nahe leads you into one of the smallest wine region in Germany .
The Wine Route of the Nahe is a marked road that runs along the course of the river about 130 km through a welcoming wine region where spring comes early and summer goes later.

Along the Nahe , the visitor is greeted by greenery , romantic valleys and spectacular rock formations. The area is also inhabited by friendly growers with very diverse wines.
The turbulent geological region Nahe gave him a wide variety of soils and has enabled a wide range of grape varieties and wine styles that promise to delight the palates of wine lovers worldwide.

White wines:

Riesling , Müller -Thurgau , Pinot Blanc, Pinot Gris
Red wines :
Pinot Black , Dornfelder , Portugieser

It is in this valley that was the monastery Disibodenberg .

If you like cycling , bike path Nahe is exactly what you need . The specific climatic and geological conditions of the Nahe Valley have created a unique environment : rock formations, vineyards and forests, castles and fortresses , health resorts rich in traditions as Bad Kreuznach and Bad Sobernheim and idyllic villages form the landscape Valley

At Bingen, at the confluence of the Rhine and Nahe , the bike path meets the Rhine .
In the valley of the Nahe River and its tributaries , and the Glan Alsenz , wine is an old tradition of 2,000 years. The region is protected from cold winds by the hills of the Hunsrück . Moderate temperatures and abundant sunshine create a very conducive to the wine business climate, in a sunny valley with low rainfall . Some 4,000 hectares of grapes such as Riesling, Silvaner Rivaner and grow there . Variants Burgunder as Kerner, Scheurebe the Portugieser and Dornfelder
Riesling. This wine is full of delicacy occupies a quarter of the area farmed .

Nahe also won acclaim for well -being. Bad Kreuznach , Bad Münster am Stein and Bad Sobernheim are places of relaxation appreciated. Guests can benefit from saline water gushing hot springs and relax time a sauna , a hot silt, Felke a cure or a wine therapy session .

Natural Park Soonwald Nahe , offers walkers a length of 100 km. Bad Kreuznach, with its houses , bridges and numerous remains of Roman times, always worth a visit . The town of Bad Münster am Stein- Ebernburg , nestled in a romantic mountain valley is famous for its medieval market, its fortress and games feudal chivalry . While you're there , climb the Rotenfels - the highest steep wall of Germany north of the Alps