Tourism in Iowa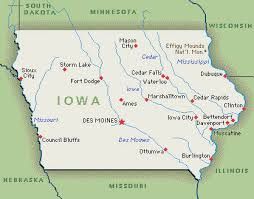 Tourism in Iowa
Iowa Located In US Midwest, it is bordered by Mississippi River on the east, Missouri River and the Big Sioux River to the west and surrounded by Wisconsin to the northeast, Illinois to the south east, Minnesota to the north, South Dakota to the northwest, Nebraska to the southwest, Kansas and Missouri to the south.
Is to the only state whose borders east and west by fully formed rivers.
Are named is from Iowas, One of Many American native tribes lived in the region before the European arrival.
Iowa was part of the French colony of New France. After the Louisiana Purchase, settlers laid the foundation of an economy based on agriculture, heart of the Corn Belt and after in the middle of twentieth century, the agricultural economy of Iowa turned towards an economy more Diversified : industries, financial services, biotechnology, and green energy production.
Iowa geology comes from the Wisconsin glaciations or to permit the formation of large lakes and allowed fine particles called loess fertilized the region.
The quiet, green countryside provides beautiful scenery or the meadows are lush greenery at Iowa, without forgetting those cities that resemble to some large villages.
Have found here a quiet countryside accompanied by an atmosphere that is not found anywhere else, it's the lifestyle that we fund just in Iowa with their museums and cafes.
When the tourist comes in Iowa, first he discovered covered bridge known in the world thanks to the Bridges of Madison celebrated with Bridge Festival takes place each fall.
In the city of the state capital des Moines you can discover the museum Art Center des Moines whose architecture is signed by both Saarinen, IM Pei and Richard Meier, with inside a collection recognized painter in world like: Matisse, Renoir, Wood, Hopper and many other.
Search also the Amana Colonies ultra Germanic religious communities Founded in 1855 which occupies seven villages with wooden houses preserved in the middle of the campaign where everything seems timeless.
Without Forgot Dubuque, river town founded by t French people from Canada, is still marked by the past are.
Throughout the country roads you will find picturesque villages, that tells the history of this state along B & B, restaurant and making your experience with local food accompanied by an Iowa wine.