The vine in Illinois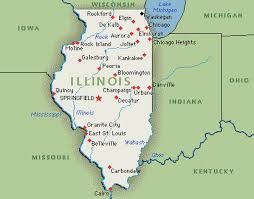 The vine in Illinois
http://the-fifth-path.over-blog.com/
Illinois is a state of the US Midwest, bordered to the north-east by Michigan Lake, surrounded by the north with Wisconsin, to the west by Iowa and Missouri, to the south by Kentucky, and to the east By Indiana.
With Springfield city for capital and Chicago as third largest city in the US
Located in the heart of Great Lakes, Illinois is a shipping center: with the Port of Chicago that connects to the Atlantic Ocean with the St. Lawrence River and to the Mississippi with Illinois River
Its name comes from the Native American tribe of Illinois. (Algonquin "warriors), brave men." the French spelling is due to the French settlers who lived in Illinois.
Wine industry of Illinois has exploded in recent years with only 14 vineyards in 1997 to over 100 today for about 550 references.
Among the grape varieties which have found:-Barbera Red, Blush, Cabernet Franc, Brunello, Cabernet Sauvignon, Catawba, Cayuga-Red, Red-Chambourcin, Chancellor White, Chardonel, Chardonnay, Chenin Blanc, Red Concord, Chianti- Red, Black Corot, Cynthiana-White, Edelweissn Frontenac-Red, Red-Gamay, Gewürztraminer, Grenache, Grenache-Rose, LaCrescent, Lambrusco-Red, LaCrosse, Leon Millot, Malbec, Marshal Foch, Merlot, Red-Muscadine, Muscat, Muscat Canelli, Niagara-White, Norton, Pinot Grigio, Pinot Gris, Pinot Noir, Riesling, St. Croix, St. Pepin, Red-Sangiovese, Sauvignon Blanc, Seyval Blanc, Syrah, Traminette, Vidal Blanc, Vignoles, Viognier, Zinfandel, Zinfandel White.
As well as the traditional method wines, assemblies white wines and Red wines and Meritage, Bay wines and fruits wines like : Apple-Wine, Blackberry-Wine, Black-Currant-Wine, Blueberry-Wine, Peach- Wine, Plum Wine, Raspberry-Wine, Rhubard-Wine, Sherry-Wine, Strawberry-Wine, and fortified wines such as ports
True wine region, north Illinois produces wine from many fruits which gives a production of dry and sweet wines. Most dry wines are grape varietals while sweet wines are fruit wines.
Its geology is largely come from the Wisconsin Glaciations which affected North America between 7000 and 85000 BC. BC to have extended of its ice cap to the south of Great Lakes county today, at the end of this period the Great Lakes were formed, the region is now covered by a layer of loess very fertile product of glacial erosion.
Northern Illinois is home, of the vineyards region with Fox River Valley you'll discover some tasting rooms dispersed in rustic countryside with an urban elegance, you will find an abundance of wineries and vineyards each with their own distinctive atmosphere. Many of them are offer a complete service, with guided tours of wine production of and vineyards, accompanied by a tasting and a meal.
Book your visit during a weekend that includes one or more of the many annual wine festivals, with the beauty of the incomparable landscapes of the Northwest and Galena Illinois.
Family wineries and vineyards are there to greet you with unparalleled hospitality of Midwest and enjoy a good meal in one of the gourmet local restaurants.
Further south in the Shawnee Hills region, visiting the mountains, you can discover the wine route in the region that includes a dozen vineyards.