Tourism in Illinois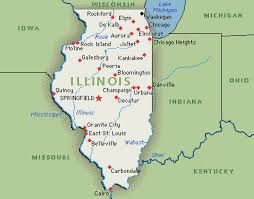 Tourism in Illinois
http://the-fifth-path.over-blog.com/
Tourism in Illinois
Illinois is a state of the US Midwest, bordered to the north-east by Michigan Lake, surrounded by the north with Wisconsin, to the west by Iowa and Missouri, to the south by Kentucky, and to the east By Indiana.
With Springfield city for capital and Chicago as third largest city in the US
Located in the heart of Great Lakes, Illinois is a shipping center: with the Port of Chicago that connects to the Atlantic Ocean with the St. Lawrence River and to the Mississippi with Illinois River
Its name comes from the Native American tribe of Illinois. (Algonquin "warriors), brave men." the French spelling of the name is due to the French settlers in the region for several decades, it turned into fur traders of French-Canadian origin, who settled among native Americans, and missionaries.
The first white exploring the area were the emissaries of the French King, with Father Marquette and Joliet trapper who discovered the Great Lakes site. Major strategic road between the Mississippi and Great Lakes.
Chicago is the tree that hides the forest, the city of Great Lakes includes the three quarters of Illinois population, but Illinois deserves a deviates from the city to discover farmland, wines and delicious cuisine.
Outside of Chicago and its metropolitan area, Illinois State is very agricultural. The remaining Illinois is a part of Corn Belt, with the cereals cultivation, the pigs rearing, sheep rearing and dairy farms. There have also found growing corn pumpkins and Viticulture.
In rural areas, the industry has developed around agriculture, from few decades with huge stockyards, now closed.
A getaway in Illinois will help you discover the contrast of the inimitable charm of provincial America, one that has not moved from 50 years and whose Route 66 is probably the symbol.
If you come on vacation in Illinois, months of April to October are favorable for crisscrossed the country, and stopping in one areas of agricultural markets.
These agricultural market, are a permanent show with local producers and fun for the whole family.
It's hard to describe the southern Illinois, with parks and recreational opportunities are abundant. Needless to say, the qualities of this region are met to provide an endless assortment of landscapes, trails, campgrounds, without forgetting the shores of lakes and rivers.
Or the autumn months provide particularly colorful landscapes in Southern Illinois, because of hardwood forests and prolific and huge variety of wild flowers. Because of location between two major rivers, topography takes a wild ride with infinitely fields from the northern half of state.
Do not forget Lake Hillsboro with these banks or the many trails are an invitation to hiking or horseback, or more areas of settlements and breakfasts are installed for your comfort, but also beaches with placeholders swimming.
Without forgotten Springfield or from 1837 to 1861Abraham Lincoln took up residence there, make a detour in his neighborhood became National Park, and visit one of the many historic sites dedicated to Lincoln, which shaped the American character