Viticulture in Iowa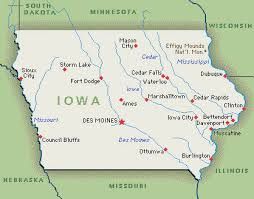 Viticulture in Iowa
http://the-fifth-path.over-blog.com/
Iowa Located In US Midwest, it is bordered by Mississippi River on the east, Missouri River and the Big Sioux River to the west and surrounded by Wisconsin to the northeast, Illinois to the south east, Minnesota to the north, South Dakota to the northwest, Nebraska to the southwest, Kansas and Missouri to the south.
Is to the only state whose borders east and west by fully formed rivers.
Are named is from Iowas, One of Many American native tribes lived in the region before the European arrival.
Iowa was part of the French colony of New France. After the Louisiana Purchase, settlers laid the foundation of an economy based on agriculture, heart of the Corn Belt and after in the middle of twentieth century, the agricultural economy of Iowa turned towards an economy more Diversified : industries, financial services, biotechnology, and green energy production.
Vineyard State, we finds have many vineyards in number of: 83 for nearly 511 references
Parmit the what have found the grapes: Barbera-Red, blush, white white, Brianna, Brunello, Cabernet Franc, Cabernet Franc Rosé, Cabernet Sauvignon, Catawba, Chambourcin-Red, Chancellor Red, Chancellor White, Chardonel, Chardonnay , Chenin Blanc, Chianti-Red, Red-Concord, Concord-White, DeChaunac, Edelweiss, Eldelberry-Wine, Grey Frontenac, Frontenac Rosé, Cynthiana-White, Red-Frontenac, Gewürztraminer, LaCrescent, LaCrosse, Leon Millot, Maréchal- Foch, Marquette-Red, Merlot, Merlot-White, Moscato, Muscat, Nebbiolo-Red, Niagara-White, Norton, Pinot Blanc, Petite Syrah, Pinot Grigio, Pinot Gris, Pinot Noir, Riesling, Saint Croix, Saint Vincent, Saint -Croix, St. Pepin, Red-Sangiovese, Sauvignon Blanc, Seyval Blanc, Syrah, Tempranillo, Traminette, Vidal Blanc, Vignoles, Viognier, Zinfandel. White Zinfandel.
As well as the traditional method wines, white wines and red wines assemblies, Meritage, Red Bay and wine from fruits like Apple-Wine, Blackberry-Wine, Black-Currant-Wine, Blueberry-Wine, Cranberry- Wine, Wine-Peach, Pear-Wine, Wine Plum, Raspberry-Wine, Rhubard-Wine, Sherry-Wine, Strawberry-Wine, and fortified wines such as port.
True wine region, Iowa produces wine from many fruits which gives a production of dry and sweet wines. Most dry wines are grape varietals while sweet wines are fruit wines.
The vine in Iowa began to grow in 1860, with the first early settlers who arrived with their vines feet in baggage subsequently viticulture was almost exterminated by extremely cold winters, and wine industry has almost disappeared with it.
Today the revival of viticulture and oenology , is starting again at the heart of the wine route in Iowa are thereby reviving with past.
Visitors, tourists and locals are invited to rediscover this Iowa heritage, who came close to disappearing. Winemakers and wine shops are ready to welcome you, and you will certainly be pleasantly surprised by your findings
The cold climate of this region selects the grapes grown, Iowa wine growers and other parts of North America are familiar with that problem by selecting varieties that are resistant to harsh winters with short growing seasons, and to be productive and meet the requirements of fresh market or processing.
Distributed today over central third of state, from north to south.
The heart of the Iowa Route des Vines has over thirteen wineries that work together to promote the wine industry, everyone is welcome when the wineries are open especially during the off-season
Without forgotten the fun who is begins when you are traveling along the wine route.
If you are going through Iowa, do not hesitate to take a weekend or a day of your time to discover one of the wine routes. Some you will be delighted by your discoveries, or along the road shop giftware are welcome to accompany you to entertaining events, where wineries and wine shops or are always eager to serve you some wines quality from their cellars.