Tourism in Tennessee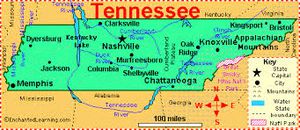 Tourism in Tennessee
Tennessee (in Cherokee ᏔᎾᏏ) is a southern state of United States and is surrounded to the north by Kentucky and Virginia to the east by North Carolina, southern Georgia, Alabama and Mississippi and west by Arkansas and Missouri.
Originally occupied by Natives American; Chickasaws, Creeks and Cherokees. Discovery and Explored by the Spaniard Hernando de Soto in 1540 and then, in the late seventeenth century by the French Jacques Marquette and Louis Jolliet going down the Mississippi, in 1673. Then in 1763, the region came under British rule. and is Acquired Native American Chickasaw to 1818
It is traversed by Tennessee river tributary of Ohio River, formed by the confluence of the Holston and French Broad rivers and from Knoxville, it flows southwest through East Tennessee before entering Alabama.
Are maximum altitude is 2,025 meters with Mount Clingmans Dome, bordering eastern Tennessee.
Divided by three main areas, Eastern Tennessee, Central Tennessee, and West Tennessee.
Renowned for its mountains, its grandiose landscapes, Country Music and paddle boats, visitors can discover the Great Smoky Mountains National Park classified with 1,200 km of trails, he Located southeast of state, on the Tennessee border with North Carolina, this magnificent park in the heart of Appalachians offers nice panoramas, to the delight of avid hikers to discover wild fauna, with the top of Lookout Mountain, Botanical Park Rock City, Ruby Falls without forgotten an underground high drop of 44 m.
The camps for hikers, are at a day hike each other. With from Gatlinburg, the trails lead hikers to the top of 1,800 meters of Mount Le Conte.
With in Vonore, the Sequoyah Birthplace Museum, for to honors a Native American Cherokee who invented the first written alphabet for an American natives language
Tourist can also visit the Nashville city, town or was born the Country Music, with are museum Country Music Hall of Fame, Music Row and another curiosity with its Parthenon, a copy of original Greek Parthenon
Further west the discovery of port city of Memphis on the banks of Mississippi River highlight, with paddle boats, it is also the blues birthplace, with punctuated by Saturday concerts in bars of Memphis city.
Country of mountains, forests, plains log cabins, rivers of living water, and boats at dawn, he would be a shame not to make the detour through Tennessee.
Do not also miss the Tennessee Walking Horse National Celebration, Shelbyville city organizes festivals, horse parades, and horse racing.
Located between, Virginia and North-Carolina. The Point East of Tennessee, is a region which is crossed when us are arriving in Washington or New York by route 81, we come here to discover one of the birth places of the Country music with Bristol City , horse town on the border with Virginia.
This is also where we found that mountains of the Cherokee National Forest, situate North of the Great Smoky Mountains with blue lake waters, Holston and Watauga, born from a development of Tennessee Valley, with the famous Tennessee Valley Authority in 1948. We come here By road 67, once revered by Natives American.
Are economy was based on the musical arts through the cities of Memphis and Nashville but also by enormous mineral resources, coal, iron, etc., with growth of 4% per year.
Tennessee is also well known for whiskey manufacture of like Jack Daniel's and George Dickel's
Country of mountains, forests, plains log cabins, rivers of living water, and, paddle boats it would be sad do not to make a detour through Tennessee.