Arkansas Vineyard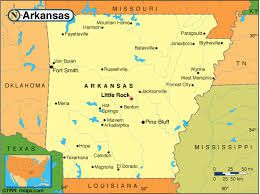 Arkansas Vineyard
The Arkansas:
Arkansas, is a southern state of the United States, surrounded by six states: Oklahoma to the west, north by Missouri, Tennessee and Mississippi to the east Texas and Louisiana in south ,for an area of ​​137,732 km2. with a population of 2,915,918 inhabitants
Its capital Little Rock is situated in center territory.
His landscapes are varied with mountain ranges such Ozarks Mountains or the Ouachita Mountains and forests like Arkansas Timberlands and further east it is Mssissippi and the plains of Arkansas delta.
Its name comes from Native American Sioux language that designates the Quapaw.
Arkansas is predominated by agricultural, in addition to traditional product Soya plantations, and spatialized in arboriculture and chicken farming, with very few wineries.
Although at predominantly agricultural, Arkansas viticulture is reduced in number of few wineries with almost 70 references, and divided into three wine regions because of the climate, soil and altitude.
Among the grape varieties which have found Albariño, Red-Barbera, Cabernet Sauvignon, Rosé-Cayuga, Chambourcin-Red, White-Chambourcin, Chardonnay, Colombard, Cynthiana-Red, Merlot, Moscato, Muscadine-Red, Rosé-Muscadine, Muscadine -White, Niagara-Rose, Niagara-White, Petite Syrah, Pinot Noir, Riesling, Sangiovese-Red, Sangiovese-Rose, Seyval Blanc, Syrah, Tempranillo, Verdelho, Vermentino, Vidal Blanc, Viognier, Zinfandel, Zinfandel-Rose.
As well as wines from Red assemblies, and berry wines and Fruits as: Edelweiss, Elderberry-Wine, Strawberry-Wine
Each winery offers to the visitors a unique view of vine growing and winemaking, with gift shops and tasting rooms.
Events and Festivals occur throughout the year in the wine regions of Arkansas. Visitors wishing to come and discover Arkansas wine roads are encouraged to visit websites of the wineries, information on events are published there.
Originally a colony of German immigrants and Switzerland settled in Altus (Franklin County) in 1870. These early settlers recognized the potential for wine grape production in region of foothills of the Ozark Mountains.
The mountains in north of Boston and the small flat elevation above mountains provided a necessary protection against spring frosts, with a soil well suited to grape production.
The first vineyards were established in the Tontitown region, but none of them are working today. Before Prohibition, there were over a hundred vineyards today there is just seven Vineyards.
Arkansas Wine Route is an ideal destination in south-central United States for tourism along the wine trails of Arkansas, the Visitors can not only enjoy the tips of each producer, but also have the chance to see beautiful scenery, and stop at historical sites, or explore the picturesque towns along the trail.