Viticulture in West Virginia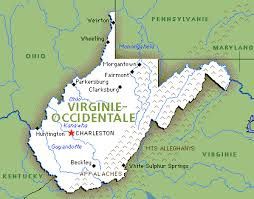 Viticulture in West Virginia
West Virginia Is A State of the United States. Is it bordered on the north by Pennsylvania and Maryland, east and south by Virginia, on the west by Kentucky and Ohio. Born in 1863 during the Civil War.
The region served as a theater of operations, as well as during the Indian Wars in the War of Independence or the Civil War.
State its mountainous and rural, where communities there Long Lived In some isolation. Its main resource was constituted by long coal mines and forests exploitation then stimulated by the arrival of the railway.
There are more than 200 years, the first winemakers knew the fertile soil and the mild weather of the Blue Ridge Mountains were ideal for growing grapes.
The region also benefits from vineyards that are the numbers from 14 to nearly 76 references
Among the grape varieties which have found Baco-Noir, Red-Barbera, Cabernet Franc, Cabernet Sauvignon, Catawba, Cayuga-Red, White-Cayuga, Chambourcin-Red, White-Chancellor, Chardonnay, Concord-Red, Red-Frontenac, Maréchal-Foch, Marquette-Red, Merlot, Niagara-White, Norton, Petite Syrah, Pinot Grigio, Pinot Gris, Pinot Noir, Riesling, Sabrevois-Red, Seyval Blanc, Syrah, Vidal Blanc, Vignoles, Zinfandel, Zinfandel White.
As well as wines from traditional method, Wine white assemblies and Red wine, Meritage wine and bay like Blackberry-Wine, Eldelberry-Wine, Sherry Wine and fortified wines like ports.
Centuries later, t vineyards implanted their families can even thriving vineyards in the Blue Ridge of Virginia, producing excellent wines that enables the region to become a destination renowned wine.
You can drink or sit on terrace of cottage a delicious wines and enjoying a stunning view of Roanoke Valley vineyards in Blue Ridge of Virginia.
Lexington Valley, produces handcrafted wines from French and American hybrid grapes.
Or winegrowers and winemakers are pleased with your visit to their cellars and vineyards. Open all year round, to enjoy one of their wines such as Merlot complex dry red wine or a bottle of Norton, Norton (sometimes called Cynthiana) from a natural cross between an American wild vine and a French grape, red and deeply colored, the wine is dry with a very strong taste.
The planters of the Eastern valleys were not attracted by the movement westward, parties to settle farmers towards Ohio.
Farmers and miners gave birth to the folklore of hillbillies whose music is one of the most tonic branches of country music.
Remained poor, sparsely populated, the state remains largely rural. A car is the most practical means to discover small country roads, such as the Highland Scenic Highway,
Trains connecting Washington to the Great Lakes provide some stops, many places worth visiting. Would it only to enjoy nature, relaxed atmosphere and this province simplicity.
One of the wildest states of the eastern US. West Virginia Is infinitely planted with forests mountains always in style, especially during the Indian summer and streaked with rivers and waterfalls, a paradise for outdoor activities lovers. Privileged terrain for lovers of hiking, skiing, fly fishing, canoeing, rafting and other extreme sports