The Tennessee vineyard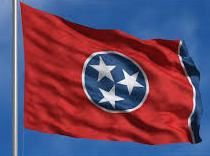 The Tennessee vineyard
Tennessee (in Cherokee ᏔᎾᏏ) is a southern state of United States and is surrounded to the north by Kentucky and Virginia to the east by North Carolina, southern Georgia, Alabama and Mississippi and west by Arkansas and Missouri.
Originally occupied by Natives American; Chickasaws, Creeks and Cherokees. Discovery and Explored by the Spaniard Hernando de Soto in 1540 and then, in the late seventeenth century by the French Jacques Marquette and Louis Jolliet going down the Mississippi, in 1673. Then in 1763, the region came under British rule.
Divided by three main areas, Eastern Tennessee, central Tennessee, and West Tennessee.
It is traversed by Tennessee river tributary of Ohio River, formed by the confluence of the Holston and French Broad rivers and from Knoxville, it flows southwest through East Tennessee before entering Alabama.
Are maximum altitude is 2,025 meters with Mount Clingmans Dome, bordering eastern Tennessee.
State wine vineyards are some forty wineries, with nearly 293 references
Among the grape varieties which have found Baco-Noir White-du-Bois, blush, Cabernet Franc, Cabernet Sauvignon, Catawba, Cayuga-Red, Red-Chambourcin, Chardonel, Chardonnay, Concord-Red, White-Cynthiana, Edelweiss, Gewürztraminer, LaCrescent, Leon Millot, Marechal Foch, Merlot, Red-Muscadine, Muscat, Muskat-Ottonel, Niagara-White, Norton, Petit Verdot, Pinot Grigio, Pinot Gris, Pinot Noir, Pinotage, Riesling, Saint Croix, Sangiovèse- Red, Sauvignon Blanc, Seyval Blanc, Syrah, Traminette, Vidal Blanc, Viognier, Zinfandel, Zinfandel White Zinfandel-Rose.
As well us found some wines from traditional method and assemblies Red white wines, Meritage wine, Bay wine and fruits wine such as: Blackberry-Wine, Wine-Peach, Strawberry-Wine and fortified wines like ports.
Florissant in 1800 Tennessee vineyards, that were mainly in areas unsuitable for other agricultural uses.
Become one of the most important crops of Tennessee, at prohibition time in 1919 but an end to this promise of growing grapes.
The rebirth of growing grapes in Tennessee has returned in the last quarter of the 20th century, in 1973 viticulture and enology resumed remarkably in Clarksville Tennessee with the wine and wine Society.
Today TFWA and TVOS (Alliance of Tennessee farms and winemakers)
Coordinating efforts to promote the interests of Tennessee winemakers, and facilitate the relationship between producers & wineries.
Wine roads are trained together several wineries and vineyards, encourage visitors to visit vineyards and the Tennessee countryside.
Few away from one to another, these wineries can be discover all in two days with the Wine Trail. That you can use to visit the cellars from Nashville.
Every year a wine festival is organized with artisans, cook, farmers, winemakers, proposers a wide range of items made by hand, accompanied by local artists, all around a good table for you to taste the products surrounding farms.
This experience will guide newcomers to become experts in wine or improve their skills.