Vines in the State of Louisiana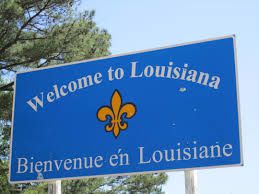 Vines in the State of Louisiana
Louisiana
Located in the southern United States, near the Gulf of Mexico, Louisiana is a flat land, except for some hilly areas covered with pine forests.
Surrounded, on the west by Texas, on north by Arkansas, to the east by the Mississippi River and south by the Gulf of Mexico. With 7% of the population are speaking French at home, mostly Cajuns, Creoles Francophones, Houma (native American)s and older Chitimacha. Making Louisiana, the most francophone state in the US.
Despite the strong historical, cultural and culinary exists with France. The State of Louisiana has never really developed a significant wine industry.
Despite this and a climate of Louisiana, which it found to be extremely hot and humid, we find some vineyards in a small part of northern Louisiana, producing (75,000 liters) of wine a year from grapes grown in the region.
The six wineries, all of which produce wines made from a number of different grape varieties, as well, like wines from other fruits, also common in Louisiana. State vineyards may even offer a delicious strawberry wine. Because the climate of the state is not always possible to develop any type of variety, they all use fruits, they can to produce quality wines. Is this type of inventiveness of wine industry that makes these vineyards a great place to visit.
The Louisiana vineyard produces over 65 references for nearly six Vineyards, where we find the grape varieties: Cabernet Sauvignon, Syrah, Red Muscadine, Muscadine-White, Barbera, Tempranillo, Sangiovese, Pinot Grigio, Riesling, Moscato, Chardonnay Carlos-white, Cynthiana Blanc, Norton, Zinfandel, as well as red blends, rosé and white wines with some traditional method and ports.
They vineyards number are mainly the above to the of Louisiana subtropical climate. With a humidity which is everywhere, especially in summer, with 40 ° C are reached each year and mild winters with 12 °C . Summers are usually hot and sweaty with more than 35 ° C, and with a very high humidity influenced by the Gulf of Mexico. But the warm tropical air is still possible throughout the year.
Today, Louisiana wineries continues to grow while supporting local wineries to offer innovative products for wine consumers.
Louisiana Agriculture has long been very successful thanks to its semi-tropical climate. Among agricultural resources include corn, rice, wheat, soybeans, cotton, sugarcane, fruits, vegetables and sweet potato.
A trip to Louisiana and the Southern States is a meeting full authenticity. Get caught by New Orleans, Creole, in the streets of hold French quarter, led by the smells of his Cajun cooking of Jambalaya and Jazz clubs rhythms.
A tourist need begins is way by New Orleans and leads visitors to Shreveport in North Louisiana through cities of Baton Rouge and Lafayette, and hear the story of the first black governor of the United States or the Louisiana Holiday Trail of Lights will allow you to fully immerse yourself in the atmosphere.
With the discovery of the best cuisine in the United States, the Louisiana cuisine, which is with multiple flavors festival, made by different communities, French, Spanish, African and Creol.
Thus the gumbo, traditional dish, is a true melting pot. Okra (spicy vegetable African), spices (Creole), red (French-based sauce), rice and seafood. Also discover the Jambalaya, near the paella Spanish; crayfish; donuts, or World Cafes, famous place of New Orleans that is open 7 days 7 and 24 / 24. But also the Banana Fosters, sweet pralines.