Minnesota and Tourism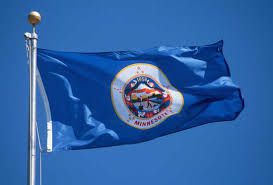 Minnesota and Tourism
Minnesota is a state in the US Midwest, surrounded on the west by North Dakota and South Dakota to the north by the Canadian provinces of Manitoba and Ontario, on the east by Lake Superior and Wisconsin and south by Iowa.
Its name comes from "mnisota" Minnesota River named by the Dakota Sioux tribe.
Which means sky color water in the Sioux language of the Dakotas giving tribute to all the scattered lakes in the state, and Lake Itasca, where the Mississippi source.
Established in 1849, the city of St. Paul became its capital; It is also the US state further north, with the exception of Alaska, with its extreme northwest who is the only region that lies north of the 49th parallel north.
Its winters are relatively cold and snowfalls are frequent with hot and humid summers with reference to the large number of lakes in the state (over twelve thousand) causing thunderstorms
It is crossed by two major rivers Mississippi that rises north of the state in Itasca Lake and its tributary, the Minnesota, which rises to the southwest of the state and flows into the Mississippi near St.Paul city.
Located in the heart of Minnesota, the discovered Midwest and its lifestyle with restaurants gastronomic and culture will surprise you with the simplicity of the gents who lives here or countless lakes occupying the region allow travelers to stop at the edge of a lake enjoying the activities related to water sports and all the full range of activities in one of its parks.
You can also go and visiting the home of aviator Charles Lindbergh or visited the old iron mine located in Soudan Mine State Park.
With many museums, theaters, quality restaurants the city of Minneapolis will enchant you with its culture that is everywhere without forgotten the marina in the city center that allows weekend to enjoy a good party of fishing on the lake.
Native American territory for over 9,000 years you will discover also not far from St Paul near Mille Lakes gathering of Native Americans, dedicated to the people of Ojibwa, and enjoy the Winter Carnival in January
Agriculture is the main source of economy, with the cattle, which in particular a strong production of cattle and calves and a producing dairy cow providing butter, cheese, and dairy products.
And the exploitation of raw materials such forest product and iron ore and taconite without forgotten the tourism that becomes a source of income.