Viticulture in North Dakota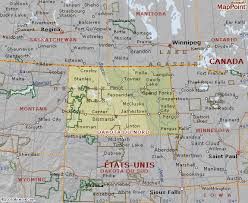 Viticulture in North Dakota
Rectangular North Dakota is a state in the Midwestern United States, bordered on the west by Montana, to the north by the Canadian provinces of Saskatchewan and Manitoba to the east by Minnesota or the flowing Red River on a north-south and to the south by South Dakota, with for capital Bismarck and largest city Fargo.
The North Dakota was originally inhabited by Native Americans for thousands of years, and it was discovered by the French Canadian swapper Pierre Gaultier de La Verendrye who led an exploration to the Mandan villages in 1738.
Are climate is continental, with hot summers and wet. Or storms are frequent during the summer, which can lead to tornadoes, especially in the southeast of the state quarter which marks the beginning of the Tornado Alley.
Winters are very cold and dry, sometimes windy; with temperatures up to - 20 ° C, accompanied by severe snowfalls.
Despite Are continental cold and dry climate, it enjoys of some vineyards with the numbers 8, for nearly seventy references.
Among which were found grape varieties: Barolo-Red, Bourgeron-Red, Cabernet Franc, Cabernet Sauvignon, Chardonnay, Chenin Blanc, Chianti-Red, Gamay-Red, Gewürztraminer, Lambrusco-Red, Malbec, Merlot, Montepoliciano, Pinot Grigio , Pinot Black, Riesling, Sangiovese, Syrah, Valpolicella, Viognier, Zinfandel.
As well as white and red blend wines and berry wines such as: Apple Wine, Black-Currant-Wine, Blueberry-Wine, Elderberry-Wine, Wine-Peach, Rhubarb-Wine, Sherry-Wine , Strawberry-wine, and a fortified wine.
Wine Country, North Dakota produced wine from many fruits which gives a production of dry and sweet wines. Most dry wines are grape varietals while sweet wines are fruit wines.
It is the latest state of the United States to have authorized a marketed producer of wines since Prohibition, the first winery to open these doors to marketing was View-Winery created April 17, 2002 since joined by numerous other wineries.
Today all over the country, wineries and microbreweries are becoming more likely to be installed.
Feel free to discover this new road of wines and beer brewers and each institution has its own personality for to discover new flavors.
Again wineries and breweries in North Dakota will you open their doors with a guided tours accompanied of course by a tasting of their products
Many wineries and breweries in North Dakota include agricultural products such as wheat, honey and fruit, and other unique local ingredients like (dandelion wine) in their drinks.
Today the Association of North Dakota growers are developing some programs for an better vision and strategies for the wine industry in North Dakota while helping each newcomer in their facilities for their vineyards.
Search also in eastern, the eastern part of the state with the flat valley of the Red River and fertile soil are drained by the Red River, which flows north into Winnipeg Lake. It is a vast agricultural region. Where is the largest natural lake in the state (The Devil's Lake).
North Dakota is part of the Upper Midwest and Great Plains with a relief relatively flat with the western half of the country consists of the Great Plains and the northern part of the Badlands, to the southwest of the state a large alley of 10 to 32 km wide and 300km long, offering the highest point in the state, with White Butte 1069 m of altitude.