Tourism in Idaho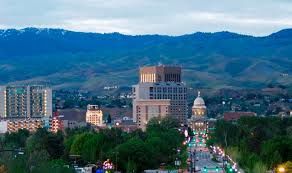 Tourism in Idaho
Idaho
Idaho is a state in northwestern United States, surrounded on the west by States of Washington and Oregon, to the south by Nevada and Utah and to the east by Montana and Wyoming, to the north with the Canadian province of British Columbia.
Inhabited from about 14,500 years, the discovery in 1959 of arrows in Wilson Butte Cave near Twin Falls, gave evidence of one of the oldest dated in North America, the most important tribes from Native Americans on the region were the Nez Perce to the north and Shoshoneau to the south.
Idaho is an important agricultural state: it produces about a third of all potatoes grown in the United States. Other notable agricultural products are beans, lentils, barley, wheat, bulls and sugar beet.
Away from the Pacific coast, are climate remains under the maritime influence is done there still feel, So despite the high altitude of the State, the winters are less rigorous than in the central plains in south State is unlike northern winter is the driest season with a semi-arid plains.
The main river is the Snake River flowing at the center of the state, offers some great views with the discovery of canyon as the deepest Hells Canyon of the United States, where one also falls Shoshone Falls where the waters of the Snake River is cast, this river also allows cities and irrigated crops giving a Provencal feel.
Located west of the Continental Divide, all rivers are flowing to the Pacific Ocean, or tributaries and sub-tributaries of the Columbia River empties into the Pacific Ocean with in the extreme south some rivers are flowing direct to the Great Salt Lake.
Visitors will also taking advantage of its landscapes beauty, the Rocky Mountains known for these high snowy peaks, these waterfalls, vast lakes and deep canyons or wildlife is still largely preserved.
The varied terrain of Rocky Mountains with its beautiful landscapes, where highest peak is the Borah Peak situated at an altitude of 3859 meters, with in northern part some wooded mountains sprinkled with lakes of all sizes. Where we can find the most largest lake in the Panhandle region, with Lake Pend Oreille, for an area of ​​345 km².
This diversity offers a range of activities with these mountains, rivers and forests, or nearly 43% of the territory is occupied by nature offering a soothing serenity with landscapes that calm and rejuvenates mind, where each city has a ski resort for the delight of winter sports lovers offering kilometers of slopes with magical landscapes, with Tamarack in West zone of the state, or Sun Valley to the southeast.
Or the Salmon River Mountains are a haven of peace, with snowy peak in East of Grand Teton, located in Wyoming.
This state is dominated by nature and the great outdoors tourism, is also developing an economy based with high technology- as well as chemicals, nuclear energy and more.