Missouri and tourism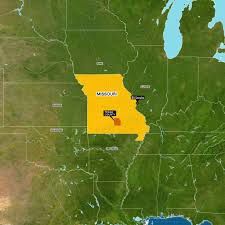 Missouri and tourism
Covering an area of ​​180,515 km2 for a population of 5,988,927 inhabitants. Missouri is a state of the US Midwest, bordered to the west by Kansas, to the north by Iowa, to the east by Illinois, to the south by Arkansas, in northwest by Nebraska to the southeast by Kentucky and Tennessee, and southwest by Oklahoma, with for capital, Jefferson City.
Originates name is from Missouri River. Which it is comes from Native Americans Missouri, speaking a language Siouane (ouemessourita ), meaning "those who have canoes ". With Illinois Confederation of who was first Native American to be encountered by Europeans in this region, hence the designation Illinoise rather than Missouri.
Originally inhabited with Algonquin and Sioux Native American tribes, It was discovered by Louis Jolliet and Jacques Marquette in 1673 and then annexed by the French Louisiana.
Located on the border between East and West American, Missouri is crossed by Route 66, It is here that the historical American highway began, feel free to come and go from St. Louis to Springfield, Joplin and up, accompanied by waterways and also a generous land, Missouri was also the largest gathering of caravans to the West starting center and the eastern terminus of the Pony Express and Union Pacific.
Missouri offers an amazing array of tourist destinations with breathtaking scenery, walks in horse carriage with wind on the legendary Route 66, locals inhabitant will welcome you with the typical Midwestern hospitality.
To the south, lush forests with oak and walnut trees surround steep hills and cliffs carved with deep caves, while to the north, the landscape is made of plains, crossed by countless rivers, including more than 1 800 km waterways and over 900 km of banks of the great Mississippi River, who gives Missouri extremely fertile.
It is crossed by numerous rivers flowing into the entire Mississippi River and its tributaries: the White River, at the southern end of state, Saint Francis River at the border between Missouri and Arkansas, the Missouri River , The Osage River in south of the State, The Chariton River in north-east, the Grand River for the northwest
Localities on the banks of Mississippi River and rivers are a concentrate of charm and populated wine bar, restaurant, tea salon, antique shops B & B t wholes of this accompanied by a rich history that accompanied to Mississippi River from 1769.
This whole area is an invitation to bike outings, horse, carriage along the trails and along rivers, evoking the first encampments of the lands conquest to the West.
You can also discover Sainte Genevieve oldest locality of Missouri, founded in 1735, located between vineyards and Mississippi with which these buildings dating from the French period allows to plunge into history with names reminiscent of Loire valley often become today's B & B.
Also is one of the finest examples of nineteenth century river town, which thereafter. Kansas City and St. Louis became important river ports, with Industrial production, especially in the military, with an enjoyed strong growth, during and after World War II.
Saint Louis city is welcomes you as a broad smile, founded in 1764 under the reign of Louis XV it is mostly become with rock legends.
You will find museums to visit such as Cahokia Mounds State or the Museum of Transportation of Kirkwood.
Further south in the heart of the Ozark Mountains, millions of Americans have family, enjoy lake, mountains, and amusement parks and shows.
Contrary to what one might think, It's Kansas City is the largest city in Missouri Around Independence city is a charming historic town marked by the tracks of Santa Fe, Oregon and California, with many historic buildings.
All these roads are all myths that invite to a journey through time. Just like all the Missouri, crossing forests, rivers and cliffs of Ozarks mountains.