Tourism in Arkansas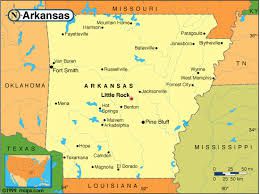 Tourism in Arkansas
The Arkansas:
Arkansas, is a southern state of the United States, surrounded by six states: Oklahoma to the west, north by Missouri, Tennessee and Mississippi to the east Texas and Louisiana in south ,for an area of ​​137,732 km2. with a population of 2,915,918 inhabitants
Its capital Little Rock is situated in center territory.
Its name comes from Native American Sioux language that designates the Quapaw, who historically resided on the west bank of Mississippi River.
His landscapes are varied with mountain ranges such as the Ozarks Mountains or Ouachita Mountains, hilly region in a tray of 122,000 km² where there are magnificent forests of oak and pine forests as well as the Timberlands Arkansas and further east the plains of what is Mssissippi and Arkansas delta, fertile lowlands used for farming.
Created from 1819, he officially became a state in 1836. Arkansas became part of Confederate States of America until the end of the Civil War in 1865.
Arkansas is predominated by agricultural, in addition to traditional product Soya plantations, and specialize in arboriculture and chicken farming, with very few wineries.
Historically, Arkansas belongs to the South and Mississippi Delta since 1881, he announced, the beginning of plains. Long stuck in its development by lands of Natives Americans Territory (later Oklahoma), it's a mostly rural state.
Tourists will certainly be interested by the waters in Hot Springs, historic spa town like Vichy elegance located in the woods of Zig Zag Mountains on the western flank of the Ouachitas Enjoying a National Park in the city.
The state is crossed by Arkansas River, a tributary of Mississippi River. Accompanied by Arkansas lakes that span nearly 2400 square kilometers, rivers and streams run on 15 600 km, without forgetting they seven national parks with an area of ​​10,000 square kilometers of national forests dotted with great beauty tourist routes .
The Arkansas natural resources are protected by the 52 state parks with Diamonds Crater among them, or you can dig for real diamonds and other precious stones.
Northwest of state, with the Oklahoma border, famous thanks to Judge Isaac Parker who had the quick judgment in Fort Smith, border city with the Fort Smith National Historic Site, as well-known because of Native American Cherokee track Tears.
This State of Arkansas has the grace and charm of the Old South with residents who have the kindness and openness of Western pioneers with mountainous regions such as the Ozarks and Ouachita that offer some spectacular panoramas. Make this state a nirvana of fresh air and an exceptional destination for tourists with Arkansas Delta that saw the Blues in Helena.
Combine the cosmopolitan Little Rock city with the Hot Springs and Bentonville with the unique Eureka Springs.
Natural side, Arkansas has small wonders. With a rich range of activities such as hiking, fishing or climbing, the most curious diggers improvise within the Murfreesboro mine.
Economically, each year the northwest of state becomes ever richer and more populated area.