Viticulture in Kentucky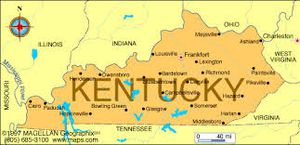 Viticulture in Kentucky
Kentucky
Kentucky is a commonwealth state, as only three other US states, bordering the Midwest and Deep South. It's surrounded to the north by Illinois, Indiana and Ohio, to the east by West Virginia and Virginia, on the south by Tennessee and west by the Missouri.
Kentucky name is from Native American origin, attributed to different languages, with several possible meanings, including the Iroquois word "Ken-tah-ten", which means land of tomorrow.
According to Auguste Levasseur it means "river of blood".
The minimum temperatures recorded in January and reach -4 ° C. Maximum temperatures reach about 31 ° C them in July.
Also present in Kentucky Viticulture enjoys many vineyards that the numbers are 61, with nearly 320 references.
Among the grape varieties which have found: Red-Barbera, Barolo-Red, Cabernet Franc, Cabernet Sauvignon, Catawba, Cayuga-Red, Red-Chambourcin, Chardonel, Chardonnay, Chenin Blanc, Chianti-Red, Colombard, Concord-Red, Cynthiana-White-Red Gamay, Gewürztraminer, Marshal Foch, Merlot, Red-Muscadine, Muscat, Niagara-White, Norton, Petite Syrah, Pinot Grigio, Pinot Gris, Pinot Noir, Riesling, Roussanne, Red-Sangiovese, Sauvignon Blanc , Seyval Blanc, Syrah, Tempranillo, Traminette, Verdicchio, Vidal Blanc, Vignoles, Viognier, Zinfandel, Zinfandel White.
As well as white wines assemblies and Red, Meritage wine and bay, Blackberry-Wine, Blueberry-Wine, fruits wine: Peach-Wine, Pear-Wine, Plum Wine, Sherry-Wine, Strawberry-Wine and fortified wines like ports.
Kentucky is also the birthplace of the American bourbon whiskey in the county with Scottish and Irish immigrants who settled in the state in the early nineteenth century.
Are limestone is known for bourbon, and is also perfect for a wide variety of grapes. That is why the winemaker of the Marquis de Lafayette, Jean Jacques Dufour, planted the "first vineyard" in what is now Jessamine County, Kentucky, and US commercial industry of wine is born.
The long and rich history of Kentucky in viticulture and oenology, began in 1798, or the Kentucky Vineyard Society was founded, and was the third largest producer of grape wine en1860. During prohibition however, grubbed, which ruined the wine industry of Kentucky.
In recent years, many farmers in Kentucky are returned to viticulture. With government subsidies and with the support and expertise of specialists in horticulture and viticulture, which now allows the grape and wine industry reborn in Kentucky.
Aware that grape growers in Kentucky are mostly again came to growing grapes, KSU has developed a winemaking site. The site provides information that includes the establishment of a new vineyard, and its vineyard management, on pests and diseases as well as recommendations for information on vineyard control. Site selection, and information about the weather and climate.
It also focuses on developing the production of sustainable agriculture.
The best time to travel to Kentucky is between May and October. During these months, temperatures are mild and rainfall remains low.
During the Civil War, Kentucky declared neutral throughout the war.
Directly to the west of the Appalachian Kentucky is located just south of the Ohio River at the border between the Northern States and South Etas but by its history, its past including slavery, he rather belongs to the Southern States.
It stretches 610 km from east to west and 260 km from north to south, with nearly 4 million inhabitants spread over 100 000 km².
Is relief is quite marked in the east of the state. With the west end of the Appalachians, which separates the US within states of the Atlantic coast, are most elevate points is the Black-mountain at an altitude of 1263 m, belongs to the Cumberland Mountains.