Vineyards in Virginia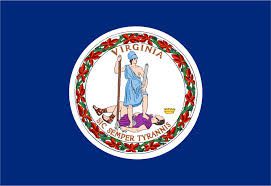 Vineyards in Virginia
Virginia
Founded in May 14, 1607, is a southern US state. With its capital Richmond and traditionally bears the name of Commonwealth of Virginia.
Bordering Atlantic Ocean with Chesapeake Bay to the east, it is surrounded by North Carolina and Tennessee to the south, with the Kentucky to the West, Maryland and the District of Columbia in the North and West Virginia to the West.
Its name comes from Queen Elizabeth 1er of England (1533-1603), known as the Virgin Queen because she never married.
First English colony of New World. Virginia is one of four states (out of 50) to use the title of the Commonwealth, with Pennsylvania, Massachusetts, and Kentucky.
It is part of the Thirteen colonies that founded the United States after Independence War.
It boasts a large number of vineyards and wineries, with over 24 wine routes, 230 vineyards and nearly 1300 references, Virginia is unquestionably a region of wine industry.
Among the grape varieties which have found: Baco-Boir, Barbera Red-White-to-White, Blush, Cabernet Franc, Cabernet Franc Rosé, Cabernet Sauvignon, Catawba, Cayuga-Red, Red-Chambourcin, Chancellor White, Chardonel, Chardonnay, Claret, Red Concord, Cynthiana-White-Wine Eldelberry Frontenac-Red, Gewürztraminer, Grenache, Graciano, Red-Lafayette, Lemberger, Malbec, Marshal Foch, Marquette-Red, Merlot, Merlot Rosé, Merlot-White , Mourvèdre, Muscadine-White-Red Nebbiolo, Niagara-White, Norton, Petit Manseng, Petit Verdot, Pinot Grigio, Pinot Gris, Pinot Noir, Pinotage, Rivanna-Red, Riesling, Roussanne, Red-Sangiovese, Sauvignon Blanc, Seyval Blanc, Syrah, Symphony-Wine, Tempranillo, Traminette, Vidal Blanc, Vignoles, Viognier, Zinfandel, Zinfandel White.
As well as wines traditional method for white wines and Blend Wine, Meritage, Red Bay wines and fruits like: Cider, Apple-Wine, Blackberry-Wine, Black-Currant-Wine, Blueberry-Wine, Cranberry-Wine, Honey-Wine, Peach-Wine, Plum Wine, Raspberry Wine-Sherry-Wine, Strawberry-Wine.
True wine region, Virginia produces wine from many fruits which gives a production of dry and sweet wines. Most dry wines are from grape varietals while sweet wines are from fruit wines.
Known from 50 years, as a wine region. Handicraft production of Virginia today produced some great vintages
Do not hesitate to come discover picturesque landscapes of the region and take the opportunity for a wine tour which particularly introduces a booming industry. Today the wine estates are distributed throughout state, or you can combine tourism and tasting, many properties are located near historic sites.
As Mattaponi Winery, Native American Winery, one and a half hour drive from Yorktown located in Spotsylvania, or took place from 9 to 12 May 1864 a battle of American Civil war between the general Grant and general Lee. One of most horrific war battles.
Come and take a time to discover these wine routes of Virginia for a getaway or a romantic weekend and explore the flavors Virginia cuisine accompanied by a Virginia vintage to discover the soul.
Each of which is a unique experience, like : Frederick Wine Trail, Carroll Wine Trail, Chesapeake Wine Trail, Piedmont Wine Trail, Monticello Wine Traill without Forgot annual wine festival in Yorktown village, historic village with quintessential that see Marquis de Lafayette Fregate Hermione in 1780.