Tourism in North Carolina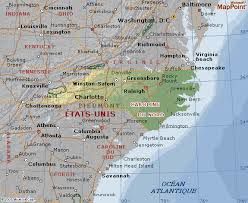 Tourism in North Carolina
From over 12,000 years, Native American, such as the Cherokee and Tuscarora are inhabited the country.
North Carolina is a southern state of United States. With its capital Raleigh, and Charlotte city as largest city. Bordering the Atlantic Ocean to the east, it is surrounded by South Carolina and Georgia to the south, with Tennessee and West Virginia to North.
Colonized by the Spanish, French and English, it takes its name from the Latin Carolus (Charles), in honor of King Charles first d'Angleterre (who made the original land grant in 1629).
In the 1730s, many Scottish immigrants settled at the foot of the Appalachians, and revolt against British rule during the Independence War.
He is one of the Thirteen Colonies that founded the United States after the Independence War.
Its population is 9,535,483 inhabitants and area of ​​139,509 km2.
Largely rural, with Piedmont county, the Blue Ridge Mountains, the Appalachian chain, Cape Hatteras and the Outer Banks, it presents diverse landscapes without Forgot Mount Mitchell, the highest peak in the eastern United States.
Its rivers are born in the Appalachian Mountains and flow into the Atlantic Ocean, such as: Chowan, Roanoke, Pamlico, Neuse, Capfear Rivers the Pee deet and Catawba, other rivers that are born in the Appalachian Mountains flow into the tributaries of the Mississippi river.
The top three regions are the Metrolina area: Charlotte-Gastonia-Salisbury, the Triangle: Raleigh-Durham-Chapel Hill, and Greensboro : Piedmont-Winston-Salem-High Point
The area was long a tobacco-growing region, today some contractors, and tobacco farmers have turned to wine making.
With warm temperatures this picturesque region of North Carolina is a blank canvas waiting for you to create the perfect getaway, and going a hike in mountains.
Located in the heart of Blue Ridge Mountains, you will discover the Great Smoky Mountain on the border between North Carolina and Tennessee, the most visited US national parks. It is crossed by the Appalachian Trail, long hiking path that stretches from Maine to Georgia.
And visited near Cherokee city at Oconaluftee, a Native American Village and the Native American Cherokee Museum.
B & Bs, hotels and other lodging and restaurants, antique shops, art galleries, and wineries visits are selected to enhance your visit to the Yadkin Valley.
There are also Charlotte, the largest city in North Carolina's economic capital but also the most touristic city in the state, with rich in museums, and historical sites.
Without forgotten Asheville, particularly pleasant to live and has become one of the greatest heritages of Art Deco buildings in the country. Or the State Park Chimney Rock with a granite monolith of 96 m.
And on the coast at the mouth of Cape Fear River, you will find Wilmington is a major port but also a great resort on the shores of Atlantic Ocean.
Today is a diversified economy, particularly in the energy sectors, biotechnology and finance.
.