Port Phillip and vineyards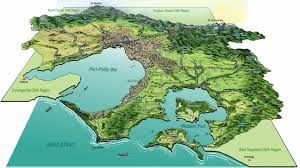 Port Phillip and vineyards
Port Phillip Bay is a great Australian Bight, in south Melbourne. It is extended in the west by the Corio Bay.
Covering an area of ​​1930 km2, Port Phillip have 264 km of shore and a maximum depth of 24 m.
Surrounded is by the Mornington Peninsula and west by Bellarine, Port Phillip is lined with numerous small bays, like Beaumaris Bay, and beaches such as St Kilda and Brighton. The bay opens to the south on the Bass Strait, a mouthpiece between the tip Lonsdale west and Nepean Point to the east overlooking the Bass Strait, sea that separates mainland Australia from Tasmania.
True wine region, the wine route Port Phillip includes the Melbourne area, produces wine from many fruits which gives a production of dry and sweet wines. Most dry wines are grape varietals while sweet wines are fruit wines.
It has a large number of vineyards and wineries, with more than a dozen wine routes, 169 vineyards and nearly 1,000 references, the area of ​​the Port Phillip Bay is undoubtedly a region of wine industry.
Chardonnay, Syrah, Pinot Noir are varieties that dominate the Yarra Valley, Mornington Peninsula, Geelong, Sunbury and Macedon wine regions just outside Melbourne.
The unique climate and geography of each region combine to create grapes, for unique wines as different as the winemakers who produce them.
Take road and taste the difference in the tone of the surf coast to the volcanic plains, lush valley of the hinterland, taking in the beautiful scenery with wines that their match.
Among the finds which have varieties: Arneis, Barbera Red-White-de-Blanc, Cabernet Franc, Cabernet Sauvignon, Cabernet, Sauvignon-Rosé, Chambourcin-Red, Chardonnay, Chenin Blanc, Colombard, Dolcetto, Durif, Fiano, Smoked -White, Gewürztraminer, Grenache, Lagrein, Malbec, Marsanne, Merlot, Merlot-Rosé, Monastrell, Moscato, Moscato-Rosé, Muscat, Nebbiolo, Nero-d'Avola, Petit Verdot, Pinot Grigio, Pinot Gris, Pinot Noir, Pinot Blanc, Pinot Meunier, Pinot-Black-Rose, Black-White Pinot, Riesling, Sangiovese, Sangiovese-Rose, Sauvignon Blanc Savagnin, Semillon, Syrah, Syrah-Rosé Tempranillo, Tempranillo-Rose, Traminer, Verdelho , Vermentino, Viognier, Zinfandel.
As well as wines traditional method white and red, white and assemblies Wines Red fruit wines such as Kiwi-Wine, Strawberry-Wine.
On the wine roads .Offer yourself time for a weekend pleasure to enjoy a breathtaking view in the Coldstream Hills winery region. Open 7 days 7.
The vineyards provide the best tours for wine lovers wishing to sample a wide selection of award-winning wines.
With its mild climate, cold winters and hot summers with some precipitation from ocean,
Yarra Valley, Its located about 50 km north-east of Melbourne near the town of Coldstream is ideal for producing high quality wines and is known for producing some of the best Pinot Noirs and Chardonnays from Australia.
Escape the city life and have no hesitation in taking one of the five wine routes, crossing the picturesque landscape, just minutes from Melbourne's CBD. Choose from five wine regions that offer various unique special mixtures to their climates. Combine your selections with local specialties to a table of farms. Raise your glass and treat yourself to meats, fresh cheeses of local handicraft.
You can also enjoy seaside towns, farm stays, craft brewers and national parks like you've never seen. Besides beaches, Port Phillip Bay is the place of activity Nautical and Piacenza.