South Carolina and vines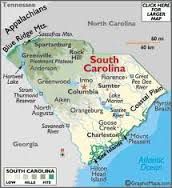 South Carolina and vines
In south of the United States, South Carolina State, with its capital Columbia, is surrounded by Georgia to the west and south, North Carolina to the north and the Atlantic Ocean to the east.
He is one of the Thirteen Colonies that founded the United States after the Independence War, Its population is 4,625,364 inhabitants and an area of ​​82,965 km2.
The territory is inhabited since 1562 by French settlers Huguenots, who create the city of Charlesfort.
Rebels during the American Revolution and established his own government in 1776. In 1777, its became the first state to sign the Articles of Confederation.
The state is frequently hit by tornadoes and tropical cyclones during the summer months. Due to its humid subtropical climate
Who says Southern, says Plantations! Those in South Carolina, they are rice, indigo and tobacco, do not enjoy the reputation of Louisiana and Mississippi. Yet a visit is often exciting for the historical value, their decor and Southerner intact atmosphere.
They also found some vineyards, which are the numbers of 16 for almost 90 references, despite an extremely hot and humid Subtropical climate.
Among which were found varietals: Cabernet Franc, Cabernet Sauvignon, Red Carlos, Carmenere, Chardonnay, Chambourcin, Chenin Blanc Chianti-Red, Gewürztraminer, Malbec, Meritage, Merlot, Merlot Rosé, Merlot-White,Red Muscadine, Muscadine-White, Pinot Grigio, Pinot Noir, Riesling, Sangiovese-Red, Sauvignon Blanc, Seyval Blanc, Syrah, Viognier, Zinfandel
As well us found some wines from traditional method, some assemblies White wine and Red wine and berry wines such as: Blackberry-Wine, Cranberry-Wine, Elderberry Wine-Mango-Wine, and Raspberry Wine-and-Sherry Wine.
True wine region, South Carolina produces wine from many fruits which gives a dry wine production, semi-dry and sweet wines. Most dry wines are from grape varietals, while sweet wines are from fruit wines.
The long history of South Carolina agriculture is continually growing, with the emergence of new areas.
The varied topography, mountains across the Piedmont at Lowcountry offers variety, soil structures that provide many opportunities for producers to create new surprising varieties of wines grown locally.
The producers of South Carolina are often family farms operating an orchard, a vineyard and their shops to sell their apples, cider or wine on the north and south of South Carolina.
Located a short drive from downtown Charleston you can initially discovered vineyards for a free wine tasting on a weekend.
You will not have to go far in the country to find a cellar and the best of South Carolina, and its wine tradition.
All wines are available for your pleasure in tasting dry, semi-dry and fruity versions specialty production in South Carolina, as well as traditional wines grown in the state.
Discover the flavors of the South, in the wines and products of that country vineyards without forgotten.
The inner Piedmont in the Appalachian borders demonstrated simplicity and a very typical rural spirit of the region. On the Georgia's border.
Green tourism destination, South Carolina is with jungle landscapes and features of subtropical mangrove swamp in the hinterland, and the resting alligators and long beaches such as the Grand Strand (97 km long) on ​​which you can see sea turtles.
The Congaree National Park is a green environment and tranquility. You can walk on foot or go around by canoe: a popular activity for children.