Some vine in Alabama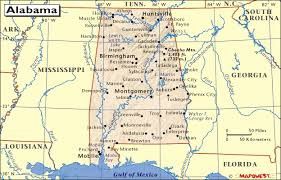 Some vine in Alabama
Alabama: State of South America. With for capital Montgomery, is surrounded by the Mississippi to the west, Tennessee to the north, Georgia to the east, Florida to the south, and an access to the shores of Gulf of Mexico.
The state takes its name from the tribe of Alabamas, related to Creeks, who lived in the high Alabama Valley.
More mountainous northern Alabama, with Tennessee creates a wide valley that forms many rivers, lakes and hills. At an altitude of 550 meters in the Appalachian Mountains, northeast with the highest point, Mount Cheaha rising to 774 meters, but majority of its area is a plain that slopes gently down to the Mississippi and the Mobile Bay.
Climate is humid subtropical with an average annual temperature of 18 ° C higher in the south of state, on the shores of Gulf of Mexico, while the northern part of the state in the Appalachian region, is slightly cooler, with rainfall throughout the year.
Alabama is also prone to cyclones and hurricanes, which discharge a significant amount of rain. with the far north who knows nearly 60 thunderstorm days per year.
Despite extremely hot and humid, we find the also some vineyards, which are the numbers of 15, with nearly 80 references.
Among which were found varietals: Muscadine, Cabernet Sauvignon, Cabernet Franc, Cayuga-White, Red Chambourcin, Chardonel, Chardonnay, Chenin Blanc, Gewürztraminer, Marshal Foch, Malbec, Merlot, Red-Muscadine, Muscadine-White, Pinot Grigio, Pinot Gris, Petite Syrah, Pinot Noir, Riesling, Sangiovese, Sauvignon Blanc, Syrah, Seyval Blanc, Sylvaner, Zinfandel, Traminette, Viognier, Vidal Blanc, and some fruit wines.
When you think Alabama, the wine is not the first thought that comes to mind, but the North Alabama has a wide variety of wineries, quite close to each other that allow you to visit several in a day and getting experience with a long weekend in a region that will amaze you.
Great wine and hospitality of Alabama mountain. Start your visit to Birmingham and head north on Interstate 59 in Gadsden. Then Take Highway 431 towards the first vineyards.
All Vineyards hosts wine tastings and allow the purchase of bottles Whether you enjoy the time for a picnic and spend the day in a pleasant Region, or there is a world adventure around each vine in North Alabama with this area, be prepared to discover a new wine country.
A day in the country of Alabama wine, you will enjoy traditional wines from the south. Break up the day with a good meal along the way, stopping in a Bed and Breakfast or hotel in the area.
Alabama also has dining options that true gourmets will find both original and fun.
Lakeland will give you an opportunity to discover an ideal fishing area. Whether you are an advanced fisherman or just a rookie willing and ready to throw your first line, the North Alabama is the place to discover. The eight lakes well stocked with a wide variety of fish. In some land scapes breathtaking.