The Grand Duchy of Luxembourg and the Moselle of Luxembourg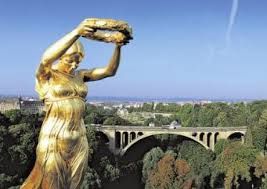 The Grand Duchy of Luxembourg and the Moselle of Luxembourg
Officially the Grand Duchy of Luxembourg ( Luxembourgish : Groussherzogtum Lëtzebuerg , German : Großherzogtum Luxembourg) , is a landlocked country in Western Europe. It is bordered by Belgium to the west and to the north, East Germany , and France to the south. It includes two main regions . The Oesling in the north as part of the Ardennes massif , and Gutland ("good country " ) in the south.
Reflecting its geographical position , the culture of Luxembourg is a fusion of Roman and Germanic Europe , borrowing customs from each. Thereafter , Luxembourg is a trilingual country : Luxembourgish, French and German are the official languages.
The total independence of Luxembourg was created by the Treaty of London in 1839 .
He became a founding member of the United Nations in 1945 and of NATO in 1949.
Luxembourg has a population of 524,853 and an area of ​​2586 square kilometers , making it one of the smallest sovereign nation in Europe.
Moselle region of Luxembourg's
Since the days of the Roman Empire when Julius Caesar marveled landscapes and wines of the Luxembourg Moselle
In this small country wedged between France, Belgium and Germany on what has a good character to him , the three cultures to form blends authentic Letzeburger
The vineyard is located in Luxembourg in its entirety on the west bank of the Moselle. He leaves Schenen at the French border, ending at Wasserbillig to the German border
The valley of the Moselle 400 meters wide is bordered by hills with gentle curves
The vines are planted at an altitude of 200 meters above sea level
Land vary from marl Reumich chalky rocks Grevenmarcher
The terrain which also offers some variety , appears peaceful and hilly Reumich , known for its sweet wines , rugged and wild Grevenmacher known for its elegant wines and nervous
Winemakers do not have to worry about the growth and maturity of their grapes because it never gets too hot , the river moderating excessive temperature
Luxembourg wines are often considered great wines, light and pleasant , which quench their thirst and drink young
But the best wines of Luxembourg really need to rest before bus These wines shows a marked because of the exposure of the vineyards north acidity , especially for Riesling , Gewürztraminer and Pinot Gris
Wine and grape Luxembourg
Are Sparkling-wine of Luxembourg, Crémant de Luxembourg, Elbing , Rivaner , Pinot Blanc, Auxerois , Pinot Gris , Riesling, Gewürztraminer & Pinot Noir
Kitchen of Luxembourg
Luxembourg reflects the position of the boundary between the Latin and Germanic worlds , is strongly influenced by the cuisines of neighboring France and Germany. More recently, he has been influenced by numerous Italian and Portuguese immigrants.