Tourism in Wyoming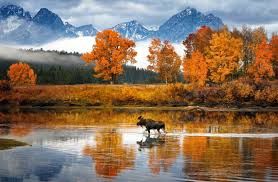 Tourism in Wyoming
Wyoming
Once inhabited by several groups of Native Americans whose: Crows, Arapaho, Sioux and Shoshone.
Wyoming is a western state of the United States, bordered on the west by Idaho, on the north by Montana, on the east by Nebraska and South Dakota and to the south by Colorado and 'Utah. One third of the state is located in the Great Plains, but Wyoming is mountainous throughout the rest of its territory. It is one of only two fully rectangular States (with Colorado). It is also the least populated state in the United States with its 563,626 inhabitants. With for capital and largest city,Cheyenne.
The ideal time to come and stay a moment is between the months May and September, the perfect time to visit Wyoming
Are named is come from the Natives American word Mecheweamiing meaning "The Great Plains.
In this large region where the Rocky Mountains affect the Great Plains, the nature are still wild accompanied by beautiful scenery.
Wyoming is also a country of hunting and fishing. More particularly with large herds for elk and antelope without Forgot deer, and many bears in this region, or rivers, lakes, are streams full of fish.
The diverse origin of inhabitant in this region, offer a cultural mix that is throughout the region, from Yellowstone National Park with the millions of visitors who come each year, discovered geysers and hot springs in Yellowstone and renowned World, such as the magnificent Grand Canyon of the Yellowstone.
From the Cody town, city of Buffalo Bill. Without forgotten many cities that has retained the charm of an authentic Old West worth visiting allowing you to discovered fauna and landscapes of the region. Visitors will discover lakes, glacial basins in large numbers in the area.
Other parks and sites are too impressed with their beauty and strangeness. Including Grand Teton National Park, that embraces the most amazing part of the Teton chain composed of a glacial basin and many lakes where you just see pelicans and elk. With the possibility of a pneumatic canoe down the Snake River.
You can discover too, Forest Shoshone, the Fossil Butte National Monument, Devils Tower National Monument also attract by its beauty many visitors and some Hobbies areas, at Bighorn Canyon and Flaming Gorge.
Tourists browsing these wild landscapes of the American West also discover its charms towns like Cody, founded by "Buffalo Bill with are museum The Buffalo Bill Historical Center and the city of Sheridan with His panoramas that have breath, or everything breathes pioneering spirit yet very developed. Or the city of Cheyenne, which annually produces the largest rodeo in the world.
These charming cities really deserve it make a visit
In this region covered with grasses and sagebrush .On very different territories, the climate is capricious. Arid or mountainous and where ranches are developed, also produced hay production, sugar beet, cereals and wool. Are basement however contains : charcoal, coal, oil, uranium and sodium.